Food sector trends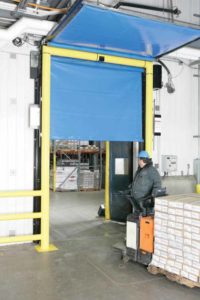 Regulations in the food industry are perhaps more stringent than any industry outside of pharmaceuticals and medicine. Above all, they depend on cleanliness to ensure food products are safe for consumers.
One area that has seen a massive boom in recent years is the ready-to-eat (RTE) food category. This includes precooked meats, cheeses, canned good, bakery, and shelf-stable fare. The Refrigerated & Frozen Foods publication expects the RTE food market to increase more than seven per cent from 2016 to 2026 to an estimated value of nearly $200 billion.
Clean areas and facility sanitation have been greatly affected by the RTE industry. To follow SFCR, food businesses must develop, implement, and maintain a written preventive control plan (PCP). The PCP helps businesses either reduce food hazards to acceptable levels, or (preferably) prevent and eliminate any potential hazards altogether.
As food facilities must adhere to a cleaner standard, it is essential to find wall and door products that comply with these regulations. New food industry-specific high-speed doors meet a host of North American regulations when it comes to keeping food safe, including SFCR, the United States Department of Agriculture (USDA), and FDA standards for cleaning and sanitation. They are made of smooth polypropylene, which provides a strong resistance to acids and bases and a low water absorption rate, making them highly resistant to mould and providing superior washdown durability. Other food-specific enhancements include:
washdown-rated sealed drive systems and controls;
one-piece, ultra-high-molecular-weight polyethylene (UHMW) plastic radial headers, which is where the fabric door is stored when in the open position; and
corrosion-resistant polycarbonate and UHMW side frames, which stand off from the wall to minimize surface-to-surface contact, and reduce pockets where bacteria can grow.
Industrial curtain walls
Much like how high-speed doors are becoming more prevalent in the food industry to separate temperatures and processes within a plant, curtain walls are increasingly being used for clean applications related to blending, mixing, and powder and raw ingredients, or other production operations. One of the most common uses for industrial curtain walls in the food and beverage industry is for the isolation of production lines so one can be cleaned while others continue to run at peak efficiency. These flexible fabric walls not only allow plant engineers to easily enclose areas and contain overspray from cleaning, but also help reduce the potential for cross-contamination during production processes.
Leading washdown curtain walls are constructed of durable, cleanable, anti-microbial vinyl fabric specifically designed for use in operations where compliance with federal food regulations is required. To eliminate the potential for harbourage concerns that can arise with sewn-together or velcro-locked panels, it is important to look for curtain walls using manufactured panels with heat-welded or radio frequency (RF)-welded seams and with air- and water-tight panel-to-panel connections.
Washdown curtain walls are typically suspended from existing ceiling structures or roof decks. Stainless steel components and hardware allow the walls to withstand the wet and harsh conditions occurring when production equipment is cleaned as part of best practices protocol. The protocol, considered a management system, ensures food safety is addressed, as biological, chemical, and physical hazards are analyzed and controlled—from the production of raw materials to the consumption of finished products. If the ability to open and close the wall is needed, heavy-duty stainless steel track and trolley systems are available to ensure easy operation, effectively creating a giant bi-parting clean area door.
The food industry is not the only one taking advantage of high-tech doors. Industries using cleanrooms and clean areas, such as pharma and medical equipment and alternative energy manufacturers, are using high-speed doors in order to meet current good manufacturing practice (cGMP) and hazard analysis and critical control points (HACCP) guidelines.

Control the content you see on ConstructionCanada.net!
Learn More.