Floored by Glass: Application and specification of fire-rated glass floor assemblies
by Katie Daniel | October 22, 2015 10:59 am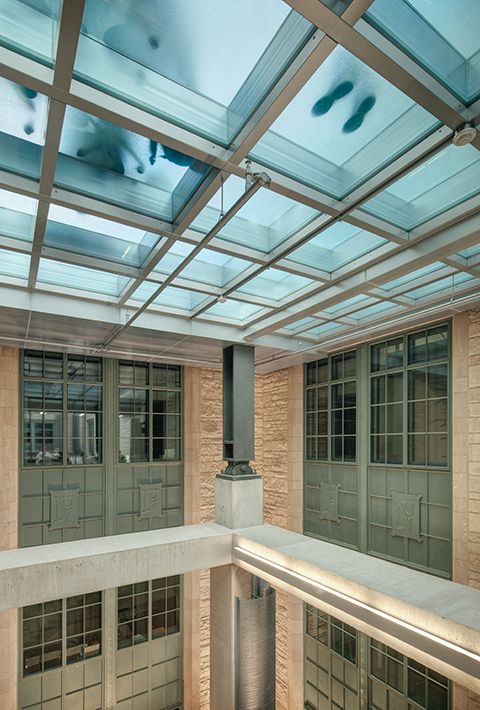 By Ron Pitts
Every year, more structures featuring glass floors are announced internationally, with each one claiming to be more spectacular than the last. Notable examples include the glass floor installed in 1994 in Toronto's CN Tower—342 m (1122 ft) above ground—and the 2014 Glacier Skywalk jutting from a cliff near Jasper National Park in Alberta.
Although these installations are designed as tourist attractions daring visitors to confront their fear of heights, design professionals also are using glass floors in practical ways combining form and function in buildings.
Glass has been incorporated into floors for decades—historically starting out as small punch-outs filled with glass blocks, and evolving to fully glazed floors. Now, fire-rated glass floor systems allow designers to create an even wider range of attractive glazed surfaces. Fire-rated glass floor systems can:
facilitate views;
allow daylight to penetrate deep into buildings to improve occupant comfort and help reduce lighting and electrical costs;
provide a durable walking surface; and
block flames, smoke, and heat.
Design professionals can use advanced fire-rated glass floor systems in interior and exterior applications that require a code-approved fire barrier between floors, such as lobby floor/ceilings, atriums, corridors near exits, and other public egress areas requiring defense against fire.
These floors can make a powerful design statement in shopping malls, office buildings, transit facilities, hotels, and other commercial and institutional buildings. In Canada, they have even been installed as 549 x 424-mm (21.63 x 16.69-in.) punch-outs in a ceiling at the Lake Huron water treatment plant in Grand Bend, Ont. The eight punch-outs are in the middle of a large room, enabling plant personnel to view the water that is being treated.
Elements of fire-rated glass floor systems
Fire-rated glass floor systems usually contain three components:
top surface glass;
structural support grid; and
fire-resistive-rated glass.
Top surface glass
The top layer in a fire-rated glass floor assembly is typically structural laminated glass. This uppermost layer must be durable enough to accommodate foot traffic, snow loads, or similar demands, depending on the application. To improve traction, specifications can call for application of a slip-resistant coating, or a special walking surface textured layer of glass set over the structural glass.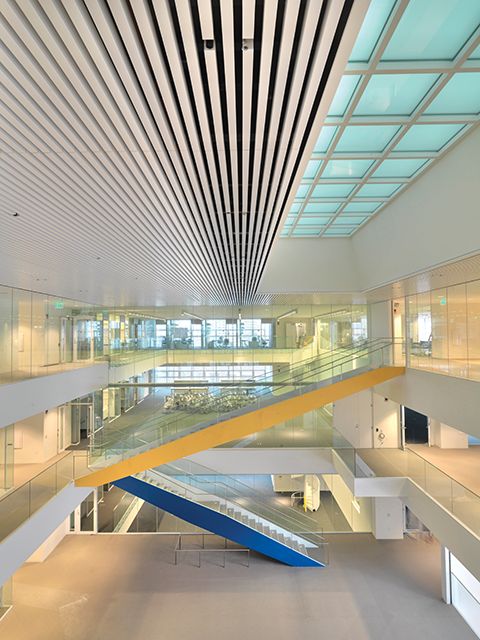 Structural support grid
The assembly's structural frame must be strong enough to support various loads, including live, dead, seismic, and wind loads. To achieve the necessary strength, frame members are often made of steel. They are typically set between the top-surface glass and the fire-resistive-rated glass. This configuration isolates the fire-rated glass from the floor's applied loadings, helping preserve its integrity.
For the entire assembly to earn a fire rating, the framing grid must carry the same fire rating in minutes as the fire-rated glass. The methods manufacturers use to defend the framing against fire include applying an intumescent coating to the steel or placing the fire-rated glazing on the bottom side of the framing grid, as its heat- and fire-resistant properties can help protect the frames from the damaging effects of a fire.
Manufacturers typically ship the frames as knock-down (K-D) kits that come ready for onsite assembly. If the project team prefers some pre-assembling of components, it is important to confirm with the manufacturer what options are available.
Fire-resistive-rated glass
As fire would typically approach the assembly from below, the bottom layer is fire-resistive-rated glass. Such glazing provides a barrier to flames and smoke to help slow or prevent the spread of fire through a building. This class of fire-rated glass also provides protection against radiant and conductive heat transfer. One popular type of fire-resistive-rated glazing for floor systems is glass with intumescent interlayers. The clear interlayers turn to foam when exposed to heat in order to block fire and heat.
Specification factors
When specifying fire-rated glass floor systems, key factors to evaluate include:
compliance with Underwriters Laboratories of Canada (CAN/ULC) S101, Fire Endurance Tests of Building Construction and Materials;
fire rating;
load capacity;
slip resistance; and
ease of top glass layer replacement.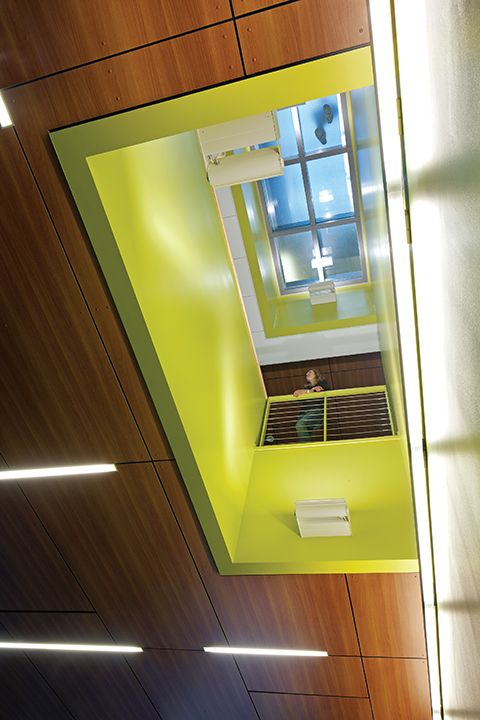 CAN/ULC-S101 compliance
To help ensure the specified fire-rated glass floor system will perform well in a fire, it is important to confirm it meets the requirements of CAN/ULC-S101. The test standard includes both a fire exposure test and a hose stream test. Similar to other fire test standards in North America, CAN/ULC-S101 evaluates performance during a fire and not suitability for continued use thereafter.
Fire rating
Fire-rated glass floor systems are available throughout North America with fire-ratings up to two hours. Non-egress floor or roof applications typically will require 60- to 90-minute fire ratings. Building occupant egress areas typically require 120-minute fire ratings. It is important for project teams to confirm the code minimum for the given application with the authority having jurisdiction (AHJ).
For applications requiring a fire barrier between floors, the floor assembly must be classified as "fire-resistive[4]" rather than "fire protective." This means it must not only block the spread of fire and smoke, but also defend against heat transfer. Both aspects work together to help contain fire and provide safe passage for building occupants and fire fighters. To earn a fire-resistive designation in Canada, glazing assemblies must satisfy CAN/ULC S101.
Load capacity
Since exterior fire-rated glass floor systems must accommodate snow, wind, and other loads, it is important to verify all load requirements with the project architect or structural engineer.
High-performance fire-rated glass floor systems are available that can support live loads up to about 730 kg/m2 (150 psf). Generally, this is suitable for high-traffic pedestrian use, as well as for public gathering areas such as transportation facilities.
Slip resistance
For floor systems that must accommodate foot traffic, it is important to specify a slip-resistant top glass layer with a co-efficient of friction suitable to the building. Many surface treatments are available to meet various surface condition requirements. One common option is to use either embossed glass or cast glass, both of which have a slightly textured surface for better traction. Another option is non-skid ceramic frit texturing, with various patterns, such as closely spaced small (1.7-mm [0.067-in.]) dots. It is important to note ceramic frits can be susceptible to wear patterns in high-traffic areas, so specifiers might want to consider an assembly with easy-to-replace top glass layers.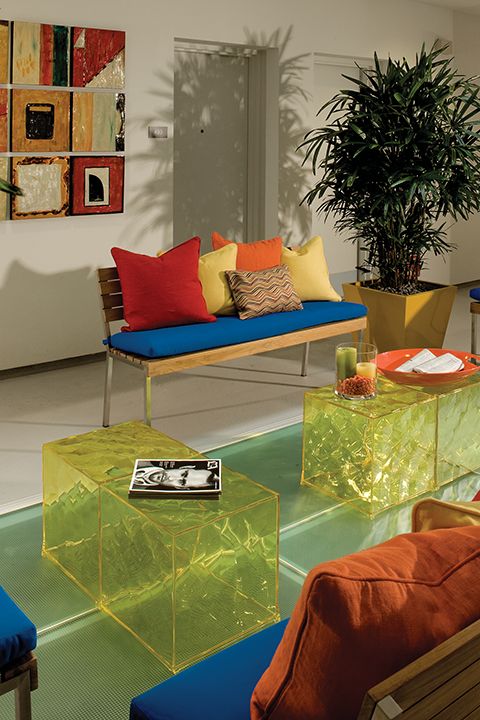 Ease of top glass layer replacement
In high-traffic areas such as hotel lobbies, transit stations, or shopping malls, the top glass layer can become worn. In extreme cases, it could be chipped or crack, especially if is struck repeatedly by hard objects. To simplify replacement, some manufacturers have developed assemblies in which the walking surface is separate from the structural glass. In this case, glaziers can readily replace individual damaged surface panels without removing the entire assembly.
Maintenance
To help preserve the long-term integrity and esthetics of a fire-rated glass floor system, the project team can include some simple maintenance details in the building operating manual.
The primary maintenance requirement is to avoid buildup of dirt and grime that can scratch the top surface glass. Maintenance workers should wash the floor with a soft, clean, grit-free cloth and a small amount of mild soap, detergent, or non-stringent window-cleaning solution and rinse the glass with clean water. The manufacturer's listings will specify tools and cleaners to avoid, which could include:
steam jets;
abrasives;
strong acidic or alkaline detergents;
other solvents or compounds; and
excessive pressure on the glass.
The exposed top surface of the structural grid usually has a protective coating that should also be cleaned at least annually. This helps preserve its esthetics and prevent corrosion or stains.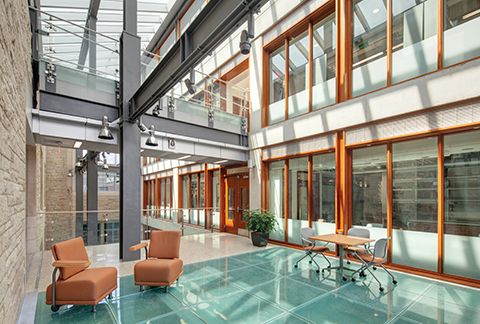 Case study
To help meet the growing space needs for engineering life sciences at Northwestern University (Evanston, Illinois), Flad Architects designed an infill between the wings of the campus' existing Technological Institute building. This U.S. project provides an illustrative example of how glass floors can be used in not only those aforementioned high-profile Canadian projects, but also more typical institutional and commercial construction.
Designed to Leadership in Energy and Environmental Design (LEED) Silver standards, the Northwestern expansion comprises five storeys and makes use of a courtyard that had been turned into parking lots.
"The infill makes use of this previously underused space and encourages interconnectivity with students and faculty in neighbouring buildings," said Matt Garrett, project architect with Flad Architects.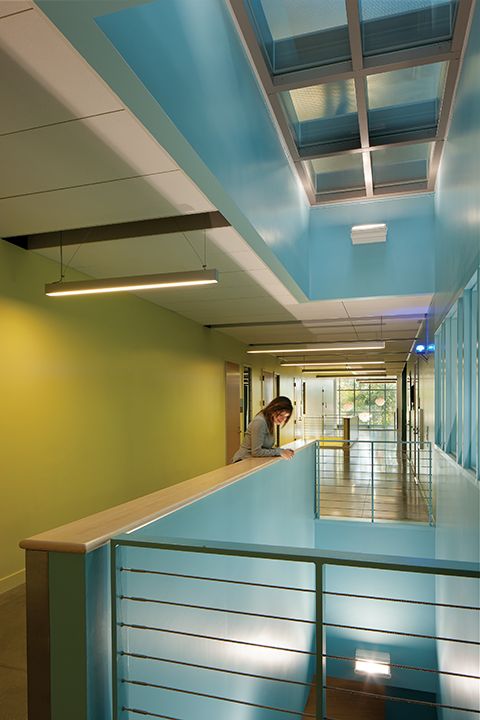 As the space had existing structures on two sides of it, a key design challenge was to ensure adequate, balanced natural light into the infill. This was particularly important for the building's nuclear magnetic resonance lab and other ground floor areas, as too much direct sunlight could harm the specialized instruments housed there.
The design solution called for a large central atrium. However, to create a barrier to fire and chemicals in case of accident, codes required dividing this large space into two segments with a fire-rated floor. To provide the necessary building compartmentation, while allowing in natural light, the designers used a high-performance fire-rated glass floor system.
The specified system comprises two-hour fire-rated heat barrier glass, a tempered, laminated walking surface glass, and a steel framing grid. The assembly provides a barrier to flames and smoke, as well as radiant and conductive heat. During a fire, this capability ensures the glass floor system's surface remains cool enough for individuals to walk across for the duration of its two-hour fire rating.
"We needed a fire barrier in the atrium, but we did not want researchers and students to be in the dark," says Garrett. "The fire-rated glass floor system allowed us to compartmentalize a large volume of space without blocking off access to daylight."
The fire-rated glass floor system supports loads up to 732 kg/m2 (150 psf), which creates additional usable space in the project. The system's textured, top-surface glass provides a slip-resistant walking surface. Additionally, the architects specified a ceramic-etched laminated glass for a mild opacity that allows the system to diffuse daylight, and privacy for the people walking on it. Along with surface treatments, various interlayers are also available for fire-rated glass floors requiring a high level of visual obscurity and modesty.
Conclusion
Fire-rated glass floors provide design professionals with more options for bringing light deep into a building's interior to help save electric lighting costs and improve occupant wellbeing. They can also be a crucial part of the design esthetic[8]. As one glazing firm has stated, "Glass flooring is beautiful; it can provide the 'wow' factor in a building, adding new dimensions to the optical environment."
Ron Pitts is the Canadian sales manager for Technical Glass Products (TGP), a supplier of fire-rated glass and framing systems, along with other specialty architectural glazing products. He has served as a glazing-industry professional in Canada for more than a decade and is currently based in Toronto. Pitts can be reached at ronp@fireglass.com[9].
Endnotes:
[Image]: http://www.constructioncanada.net/wp-content/uploads/2015/10/TGP-Northwestern-Fire-rated-Glass-Floor.jpg
[Image]: http://www.constructioncanada.net/wp-content/uploads/2015/10/TGP-Fireframes-ClearFloor-20091130_23751_a.jpg
[Image]: http://www.constructioncanada.net/wp-content/uploads/2015/10/TGP-Pasadena-Fire-rated-Glass-Floor.jpg
fire-resistive: http://www.constructioncanada.net/cutting-through-the-smoke/
[Image]: http://www.constructioncanada.net/wp-content/uploads/2015/10/TGP-IMG_6459_cropped.jpg
[Image]: http://www.constructioncanada.net/wp-content/uploads/2015/10/TGP-Fireframes-ClearFloor-1118_13v1.jpg
[Image]: http://www.constructioncanada.net/wp-content/uploads/2015/10/TGP-Fireframes-ClearFloor-5990_009CPS.jpg
design esthetic: http://www.bath.ac.uk/cwct/cladding_org/fdp/paper27.pdf
ronp@fireglass.com: mailto:ronp@fireglass.com
Source URL: https://www.constructioncanada.net/floored-by-glass-application-and-specification-of-fire-rated-glass-floor-assemblies/
---