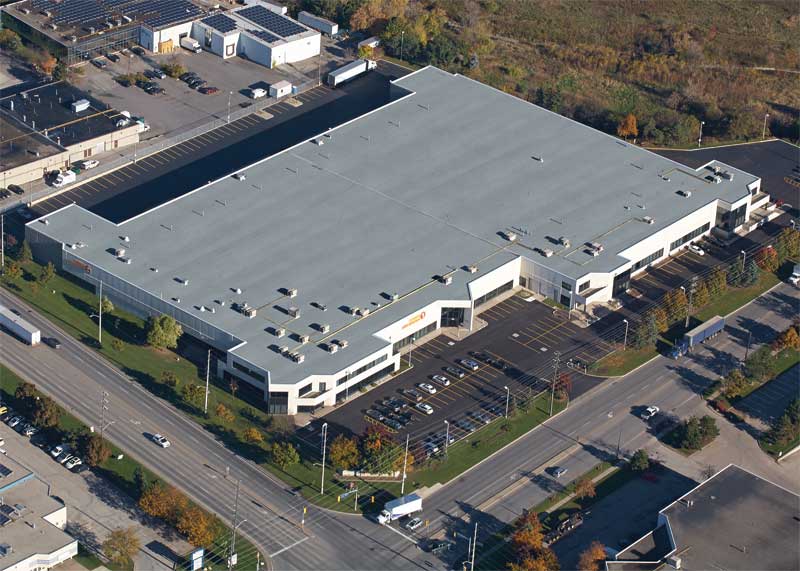 By Dave Miller, RRO, CTR
For the past 50 years, the commercial roofing industry in North America has developed and adapted many roofing system options for low-slope buildings. Modified bitumen (mod-bit) membrane assemblies are well-suited to the Canadian climate, making the system a significant player in the commercial roofing marketplace. Industry-sponsored training programs, investments by manufacturers, and high levels of competition have contributed to the overall success of mod-bit. Nevertheless, design/construction professionals must understand the full range of considerations for achieving high-performing roofing systems.
Weather factors
Most of Canada's population is concentrated in the southern parts of the country. The weather in these regions tends to be less severe than the rest of the country, but these areas are still subject to considerable variances in both warm and cool weather patterns. Temperatures can easily range from 30 to –30 C (86 to –22 F) throughout the year. Additionally, all of Canada's major cities face relatively significant precipitation. St. Johns, NL, has the most snowfall (3350 mm [132 in.]) and Abbotsford, B.C., has the most rain (1538 mm [60.5 in.]). These conditions require resilient and durable membrane systems—mod-bit roofs answer the call by adapting to these diverse conditions.
Mod-bit is the preferred roofing membrane choice for extreme weather because of the nature of the rubberized polymers added to the asphalt, which is brittle by nature and does not effectively handle cold temperatures. Styrene butadiene styrene (SBS), or rubberized asphalt, forms a molecular bond with the asphalt to create asphalt bitumen that accommodates expansion and contraction in the cold temperatures. The polymer-modified asphalt properties of SBS add flexibility and durability to the membrane. An abstract from the Society of Petroleum Engineers (SPE) provides greater detail about this process.  (For more details, read "Polymer Modifications in Asphalt Roofing" at leaders.4spe.org/spe/conferences/ANTEC2017/papers/400.pdf.)
Roofing system options
While a variety of membrane systems are used across the country, the combined modified bitumen and asphalt built-up roof (BUR) assemblies account for as much as 80 per cent of the annual Canadian industrial, commercial, and institutional (ICI) low-slope roofing market, according to a report by the Athena Sustainable Materials Institute. (www.nrcan.gc.ca/sites/www.nrcan.gc.ca/files/mineralsmetals/pdf/mms-smm/busi-indu/rad-rad/pdf/ars-eng.pdf) Roofing asphalt is prominent in three types of systems—traditional four-ply built-up roofs, two-ply mod-bit roofs, and rubberized asphalt BURs.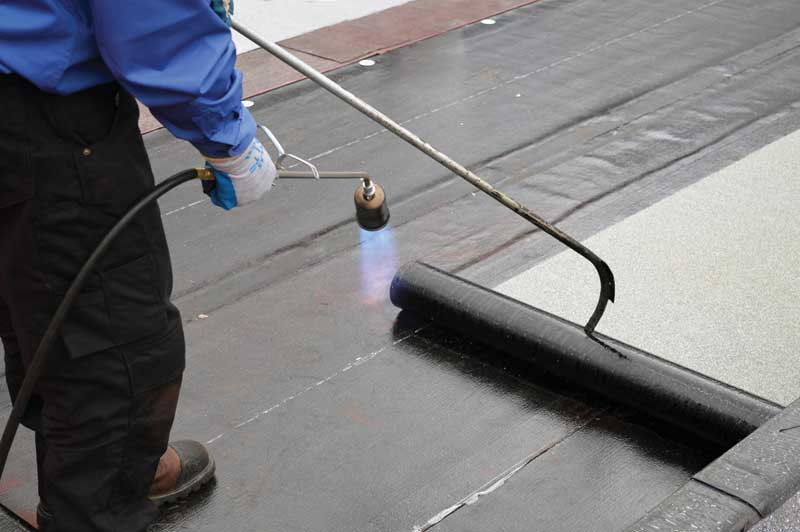 Built-up roofing
Also known as tar-and-gravel roofs, BURs use layers of bitumen and reinforcing fabrics to create a finished membrane. They are constructed with several-ply sheets of glass fibre or paper used as reinforcement. The bottom ply, or base sheet, is sometimes introduced and fastened mechanically, creating a multi-ply system referred to as a hybrid BUR. These membranes can be applied directly to the roof deck, but are often laid over exterior insulation and overlay boards in what is known as a conventional roof assembly.
In a BUR system, the most commonly used bitumen is asphalt-based—either hot-mopped or cold-applied in an adhesive form. However, there are a few systems that use a cold asphalt application form.
BUR systems offer good performance in absorbing building stress and thermal shock. This is accomplished through the unique application of successive layers of reinforcing material between layers of bitumen. This membrane has strength for proven long-term durability. When a mineral surface is applied, BUR also delivers Class A fire resistance from external flames in accordance with CAN/ULC S107M, Methods of Fire Tests of Roof Coverings. Surfacing options for BUR systems include:
stone aggregate;
slag;
mineral granules;
mineral-surfaced cap sheets; and
smooth-surface hot asphalt.
In some cases, aluminum or elastomeric coatings may also be applied to the surface to provide a finishing coat and minimize the effects of ultraviolet (UV) radiation.
While BUR can be applied to almost every building, these systems do not lend themselves well to high-rises or areas with restricted access because there must be room for the asphalt to be pumped to the rooftop area. BUR materials are also heavy, labour-intensive, and can be noxious and dirty.

Control the content you see on ConstructionCanada.net!
Learn More.