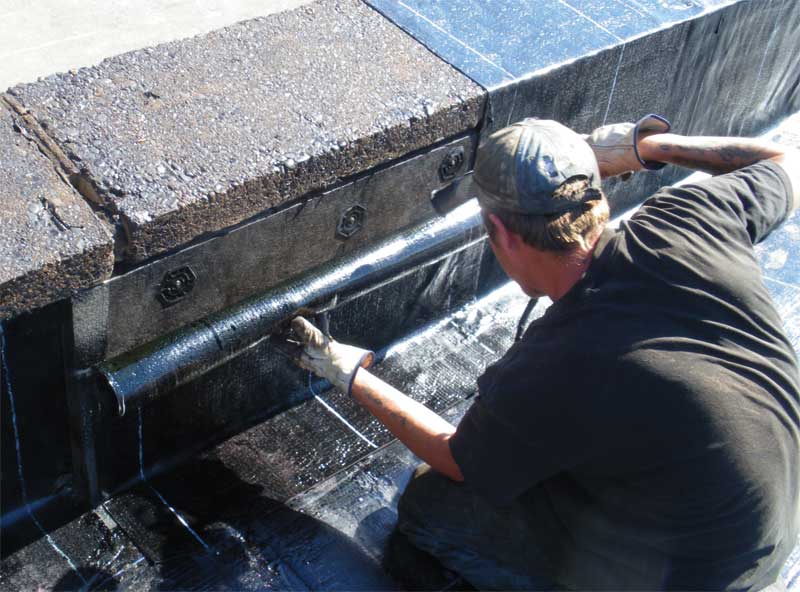 Self-adhered membranes
This membrane adheres to both substrate and to itself at overlaps without the use of an additional adhesive. A release paper or film protects the undersurface of a self-adhering membrane to keep it from bonding to itself during shipping and handling.
Self-adhered membranes serve a suitable base for the application of a heat-welded cap sheet or as a flashing detail designed for use in flame-sensitive areas. Pre-adhesives in both solvent-based and low-volatile organic compound (VOC) products provide a quick-drying surface preparation for installing these membranes and conditioning the substrate for optimal membrane performance.
Workforce training and durability
Many Canadian-based roofing manufacturers have a long track record in mod-bit roofing systems. The market has widely accepted them for multiple reasons including available warranty programs, long life expectancy, and durability.  Market demand has motivated manufacturers to sponsor training programs, which have educated contractors and improved the labour force's ability to effectively install these systems. Such training also ensures products are applied properly in order to fulfil the various requirements of manufacturers' warranties.
While the labour force is trained in all application methods, each has its own consideration. Torch-applied methods increase the risk of fire, which may contribute to higher costs and danger. Installing self-adhered membranes is clean and safe, but requires attention to detail. Cold adhesive systems are designed to bridge the gap between heat-sensitive systems and flame-free membrane solutions, at relatively low risk to the contractor.
Conclusion
Commercial low-slope roofing applications face numerous challenges, including vapour control, thermal control, resistance to precipitation, weathering, durability, and life expectancy. While many system choices are available, identifying the right one for each building scenario is paramount.
Cost-effective, adaptable, and flexible, mod-bit assemblies lend themselves to a wide variety of construction scenarios. When properly designed, these membranes can resist the elements while being esthetically pleasing through a wide choice of colour granule surfacing options. Regardless of their appearances, mod-bit roofs are well-suited to Canada's varied climatic zones and temperature fluctuations.
Dave Miller, RRO, CTR, is senior manager for codes and approvals for IKO Industries. His more than 40 years of construction experience includes foundation steel, electronic cabling, and commercial roofing. Miller co-chairs the Ontario chapter of the Roof Consultants Institute's (RCI's) technical committee; he is also an associate member of CSA's Bituminous Roofing Committee and a member of the Canadian Roofing Contractors Association (CRCA). He can be reached at dave.miller@iko.com.

Control the content you see on ConstructionCanada.net!
Learn More.