by Dan Danowski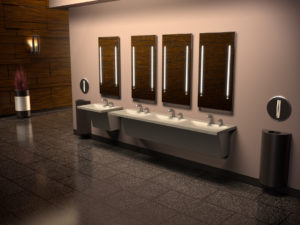 An unkempt, neglected, or outdated restroom makes people think a business does not go the extra mile for its customers or really care about what people think about its brand.
A commercial restroom is an opportunity to separate from the standard, not just the subpar. Building professionals can adopt these design tips to ensure a pleasant customer journey all the way inside a business's restroom, starting with the handwashing station.
Selection and guidance
A common disconnect in commercial restrooms begins with the handwashing station. Many manufacturers do not bring their solutions full circle between hardware, basins, and other accessories. A manufacturer with a solid surface integrated handwashing system (matching up the lavatory, faucet, and soap dispenser) can deliver an efficient, complete, contemporary solution without compromising design. Although they may be offered as complete systems, there are still many choices in faucets, basin designs, colours, and surface materials to give visual flexibility.
Additionally, some product providers overlook design support as a complimentary service to plumbing professionals, architects, and business owners. However, this is not a universal truth. Building professionals can find manufacturers who treat the process more like a partnership and offer a complete portfolio, along with options, online technologies, and expert design assistance.
Integrated handwashing systems provide an all-in-one approach to restroom design. The result looks cohesive, and the final solution works better together. Some handwashing systems offer a solution where products are engineered to work together for higher performance and ease of installation. For example, a behind-the-wall carrier is seamlessly matched to function with the basin and withstand misuse and abuse.
Behind-the-wall carrier systems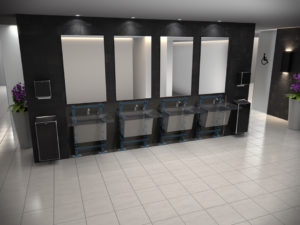 Behind-the-wall carriers are securely mounted to the concrete floor, providing strength and durability to the entire handwashing system. This mounting option stands up in high-traffic areas, like schools, stadiums, and hospitals, where frequent use or vandalism is a concern. They also optimize space.
An upright carrier system installation means developers do not have to build out a large cavity. It also allows one to gain floor equity, which helps with code compliance. For example, 75 mm (3 in.) save billable square footage on the other side of the wall. A carrier variable by height and width after installation saves the contractor time if adjustments need to be made.
Depending on the scale of the restroom and station configuration, one will want to make sure the carrier meets the highest load rating. The American Society of Mechanical Engineers (ASME) A112.6.1M-1997, Floor Affixed Supports for Off-the-Floor Plumbing Fixtures for Public Use, allows 136 kg (300 lb) per basin with a maximum deflection of 3 mm (1/8 in.) at the wall and 9.5 mm (3/8 in.) at the basin rim. Therefore, a triple basin would support up to 408 kg (900 lb) on the front of the wall.
For retrofit projects, a mounting bracket may need to be used when a behind-the-wall carrier system is not an option. Choose a system with rigorous support, load tested to 272 (600 lb), with a maximum residual deflection of 0.25 mm (10 mils) at the rim of the basin to ensure system durability. (If unsure of the system's load rating, it is advisable to refer to the specification sheet or contact the manufacturer for guidance.)
The mounting and wall brackets and necessary hardware should come organized together in one shipment. A diligent manufacturer will also include step-by-step directions with pictures and discernible language.

Control the content you see on ConstructionCanada.net!
Learn More.