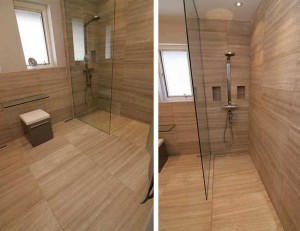 Benches and floor panels
Benches are a desirable and popular feature in barrier-free showers as they allow the user to sit in comfort and safety while bathing. This design feature has been aided by the availability of prefabricated benches made of solid EPS blocks, or assembled-in-place extruded polystyrene (XPS) or EPS foam panels. Both versions allow for benches to be configured in many dimensions that are 100 per cent waterproof and require neither framing nor an elaborate fastening system.
A final new technology available for barrier-free bathrooms is prefabricated floor panels that are made with one, two, or four slopes. Typically, these EPS products are not only user-friendly, but also contribute additional benefits. The reality is utilizing a pre-sloped shower panel makes it simple to create a flat and plumb surface to reduce the possibility of lippage and 'bird baths' in the floor surface of the bathroom.
For example, because they are made of a thermal-resistant material with an R-value of approximately 4 per 25 mm (1 in.) of thickness, the tile has some insulation so it is not as cold as being bonded to a mortar-bed or concrete slab. Additionally, the weight is substantially reduced versus a mortar bed or concrete levelling bed, which weighs approximately 80 kg/m2 (16 lb/sf) at 38 mm (1 ½ in.). Depending on the density of the XPS panel, there are also sound attenuation contributions. For wood-frame construction, the National Building Code of Canada (NBC) requires a minimum of 48.82 kg/m2 (10 lb/sf) dead load and 195.29 kg/m2 (40 lb/sf) live load, so the saving in weight by using a prefabricated shower tray can eliminate the need to add extra reinforcement such as blocking or an additional I-joist.
Conclusion
Although they can be complicated to construct, with some proper planning and use of new materials such as integrated bonding flange drains, linear drains, prefabricated trays, and EPS wall boards, these types of bathrooms can be more durable. As shown in the photos throughout this article, the 'next-generation' bathroom can be both functional and elegant—it is just a matter of recognizing the challenges and executing the solution.
Dale Kempster, CSC, CTC, TTMAC, is the technical director of Schluter-Systems (Canada), and has been with the company for 25 years. He is currently vice-president of the Materials, Methods, and Standards Association (MMSA) in the United States, and was on the Terrazzo, Tile, and Marble Association of Canada's (TTMAC's) board of directors for 14 years. Kempster co-chairs the Specifications and Technical Research Committee and is chair of the TTMAC 09 30 00 Tile Installation Manual. He is the current chair of the Canadian Advisory Committee for the International Organization for Standarization (ISO [TC189]). Kempster also co-chairs the MMSA Sound-control Committee and served as co-chairperson of the MMSA Crack-isolation Committee. He is a graduate of the Certified Tile Consultants (CTC) program given by the Ceramic Tile Institute of America (CTIOA). Kempster can be reached via e-mail at dkempster@schluter.com.
For more on Barrier-free showers, click here.

Control the content you see on ConstructionCanada.net!
Learn More.