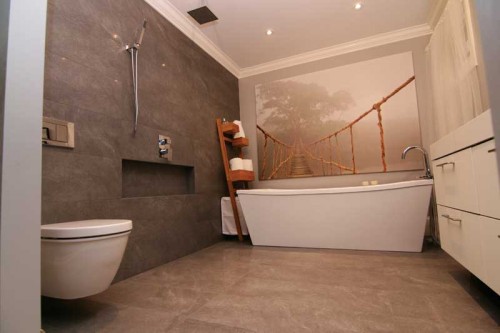 By Dale Kempster, CSC, CTC, TTMAC
Over the last decade, it seems the demand and desire for barrier-free bathrooms has grown dramatically. Aside from the importance of accessibility and universal design for those with physical challenges, this phenomenon can be partially attributed to 'baby boomers' who are now finding they are not as mobile as in the past; some are having difficulty stepping into a tub or even over a 150-mm (3-in.) high shower curb. Additionally, the popularity of large hot tubs in bathrooms seems to have run its course. Many builders have started to switch from using space-consuming and somewhat energy-inefficient luxury fixtures and are instead installing multiple shower heads and sometimes a steam generator into shower spaces.
Another factor, the 'aging-in-place' phenomenon, has seniors not selling their homes and moving into retirement villages or assisted-living quarters; instead, they are modifying their homes to make them more user-friendly as they age.
In 1971, Statistics Canada cited eight per cent of the country's population as being 65 years and older. Last year, this number had increased to almost 15 per cent—nearly five million people. The number of people older than 65 is forecast to grow by an additional 900,000 in the next five years, suggesting the need for barrier-free housing will continue to increase.
Over the last couple of years, advancement in building material technology allows for barrier free bathrooms that are relatively easy to construct, functional, and perform extremely well.
The main objective of this article is to identify the various challenges of constructing a barrier-free bathroom and offer several solutions and recommendations to make the design and building of these spaces relatively painless.
Controlling moisture
One of the top challenges when designing and building barrier-free showers is moisture management. This is a systematic method to contain water in both liquid and vapour form and enable it to pass through an assembly predictably and efficiently using materials not adversely affected by moisture.
Virtually no material can completely eliminate water vapour transmission. In recognition of this fact, the terminology for a vapour 'barrier' was changed a few years ago to vapour 'retarder'—the only true vapour barrier would be solid glass or metal. The standard for thin, load-bearing waterproof membranes that can have tile directly bonded to them is American National Standards Institute (ANSI) A118.10, Load-bearing, Bonded, Waterproof Membranes for Thin-set Ceramic Tile and Dimension Stone Installations. This standard, however, is only for waterproofing and does not have any performance criteria for vapour transmission which is commonly tested under ASTM E96, Standard Test Methods for Water Vapor Transmission of Materials.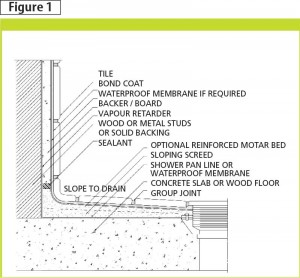 Given the mentioned prospect of multiple shower heads and steam-generators, it is very important the substrates (i.e. walls, floors, and showers) are waterproof and, in most cases, resistant to steam/vapour. The Tile, Terrazzo, and Marble Association of Canada (TTMAC) has recently revised its Detail 321 SR, "Tile Installed in Steam Rooms," in the 2011–12 Specification Guide 09 30 00 Tile Installation Manual, calling out that the waterproofing membrane should have a perm rating of 0.5 or less (previously < 1.0) using ASTM E96 at 90 per cent humidity. This is in recognition of the high service requirements found in steam-shower and steam-room applications.
Construction height
Another challenge in barrier-free applications is limiting construction height. This is a particular challenge when using a shower pan method with a two-stage drain and a mortar-bed (Figure 1). This method will create excessive construction height as the minimum thickness of the mortar bed will be 31 mm (1.2 in.) at the lowest point which will then increase by approximately 6 mm (0.24 in.) in every 305 mm (12 in.) to create the slope required for drainage. Depending on the size of the shower the construction height can easily increase to 54 mm (2.1 in.) or thicker, which in barrier-free construction will cause impediments at the entrance to the bathroom.
Options with drains
The early 1990s' arrival of ANSI A118.10 membranes was followed about a decade later by the introduction of drains with an integrated bonding flange. This way, a thin, load-bearing waterproof membrane could be adhered to the drain, making a waterproof connection at the top of the assembly. The advantage of this method is the low construction height can be maintained as these types of drains can be directly installed onto the substrate, with no mortar bed required.

Control the content you see on ConstructionCanada.net!
Learn More.