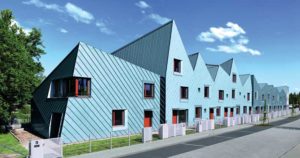 By Charles (Chip) McGowan
With a potential lifespan of 100 years or more, architectural zinc cladding delivers longevity, sustainability, and resiliency to meet or exceed specified requirements on commercial, municipal, residential, educational, health care, and other thoughtfully designed projects.
Zinc as a construction material has a history reaching to antiquity. Modern architectural zinc is specified today for wall cladding, roofing, rain management, and architectural details. It can be fabricated into a variety of panel styles, sizes, and shapes. Today's zinc material options also offer different colours and coatings, complemented by numerous installation techniques and systems.
This proven, natural construction material is extremely long-lasting and requires minimal maintenance. Throughout its long lifetime, its dynamic esthetic evolves as the zinc material's patina is influenced by the project location's unique climate and protects this ecologically friendly material for many generations.
Elemental, natural, and sustainable
While zinc could be considered a precious metal for its usefulness, it is not in limited supply. Zinc is the 24th most abundant element in the earth's crust. The largest working reserves are in the United States, Asia, and Australia. Research indicates zinc resources should be available for at least the next 700 years, without taking recycled zinc scrap into account.
In design and construction, zinc is known to be a dense, cost-effective material that is easy to form, cut, and fabricate. In comparison to other materials or different cladding, zinc cladding is cost-effective, in part, because it lasts up to 100 years or more. Pure zinc is somewhat brittle and works best as a building material when alloyed with small amounts of titanium and copper.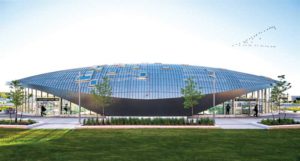 Supporting environmental and human wellness, the metal alloy used by industry-leading architectural zinc manufacturers does not contain lead, iron, cadmium, selenium, manganese, or magnesium. Further, chromium-6 has been removed from common coatings applied to architectural zinc by leading manufacturers. Chromium-6 and other heavy metals can be toxic, resulting in health issues when exposed to high amounts and over extended periods.
Energy-efficient, low-emission production is part of what makes zinc cladding ecologically friendly. Zinc's natural abundance, resiliency, recyclability, and longevity also are key factors. As little as one-quarter to one-third of the energy is needed to produce architectural zinc alloys, in comparison to other metals such as stainless steel, copper, and aluminum. This is because of zinc's low melting point and its malleability to shape. Emissions during smelting and processing can be minimized through state-of-the-art production equipment. In the highest quality manufacturing companies, pre-consumer scraps are 100 per cent recycled.
High-quality zinc building products are infinitely recyclable without loss of its chemical or physical properties. Recycled content in architectural zinc products reaches up to 40 per cent for pre-consumer and 10 per cent for post-consumer, depending on the source.
In Europe, the recycling rate for zinc is more than 90 per cent in the scrap industry. One reason for this is the high residual material value of up to 60 per cent of the original material price, which is a strong incentive to collect scrap and waste materials.
Architectural zinc wall cladding can contribute to meeting criteria of green building programs such as:
∞ Building Research Establishment Environmental Assessment Method (BREEAM), developed in the U.K. and adapted for other countries including Canada.
∞ Canadian, U.S., and World Green Building Councils' (WorldGBC's) Leadership in Energy and Environmental Design (LEED) rating systems.
∞ Green Globes, developed by ECD Energy and Environmental Canada.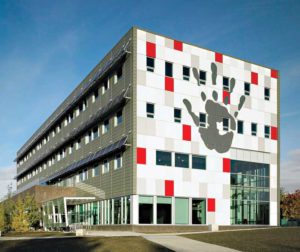 Product and material testing and documentation are necessary to support sustainability claims. When assessing an architectural zinc product, request an environmental product declaration (EPD). EPDs are third-party verified, internationally recognized, and standardized tools for assessing a building product's sustainability.
Considering the entire life cycle of a product or material, the Cradle to Cradle Products Innovation Institute's evaluation differs from other certifications in its focus on safe, sustainable products for a circular economy. To receive Cradle to Cradle certification, products are assessed from material generation to reuse across five categories: material health, material reuse, renewable energy and carbon management, water stewardship, and social fairness.

Control the content you see on ConstructionCanada.net!
Learn More.