Zinc wall cladding product examples
Used in European building construction since the 1800s, titanium zinc was introduced to North America as an architectural material in 1992. In Canada, successful projects can be seen from coast to coast.
For wall cladding products, facade systems, and other building applications, architectural zinc is typically manufactured in continuous 1000 mm (39.4 in.) wide coils. From these large coils, material is shipped as either flat sheets or rolled in smaller coils in 24-, 22-, 20-, 18-, 16-, and 14-gauge thicknesses. Custom width coils can be ordered to minimize waste and facilitate manufacturing various profiles. Tiles and panels can be fabricated as roll-formed or brake-formed engineered wall cladding systems. Any scrap generated through this process is 100 per cent recyclable.
Dimensions, system orientation, shapes, sizes, and perforations can be further defined and customized to meet a project's individual specifications. Typical zinc wall cladding products include:
∞ Flat-lock tiles which can be installed horizontally, vertically, or with overlapping seams for a running bond or complex designs on flat or curved surfaces. Usual dimensions show face heights of 200 to 400 mm (8 to 16 in.) or larger, with lengths up to 3 m (10 ft). Larger sizes require a heavier gauge. Shapes vary from rectangular, square, or diamond.
∞ Standing seam panels which can be oriented horizontally, vertically, and diagonally to produce the desired linear look. Standard seam heights are typically 25.4 and 38.1 mm (1 and 1.5 in.). Lengths vary up to 12 m (40 ft) with typical widths ranging from 300 to 425 mm (12 to 16.75 in.).
∞ Horizontal panels which allow for an emphasis on the reveal with face heights up to 254 mm (10 in.) and lengths up to 3 m. Joint widths from zero to 25.4 mm are possible. A hairline joint minimizes shadow lines for a flush look. Panels and joints can be configured to create vertical joints or can be staggered with backer plates.
∞ Vertical reveal panels which are like those offered for horizontal installations and feature face widths up to 330 mm (13 in.). Vertical and horizontal panels can be combined to form innovative building envelope designs.
∞ Corrugated profiles which are available as sinusoidal profiles or as trapezoidal, "box" profiles to clad large areas with ease using either exposed or concealed fasteners. Panels can be installed horizontally, vertically, or diagonally. Common sinusoidal profiles have heights of 12.7 and 22 mm (0.5 and 0.875 in.). The typical sine frequency is 68 mm (2.67 in.). Trapezoidal profiles for wall applications often present a strong shadow effect with depths up to 50 mm (2 in.).
∞ Cassette panels which are often a part of an engineered curtain wall system. These panels allow for larger format panels by using reinforcements behind the panels and incorporated into the frames. For these large panels, 16 gauge is typically recommended.
∞ Perforated panels which provide the benefits of zinc, combined with advantages of daylighting and passive solar shading, plus low-maintenance punched openings that naturally patina.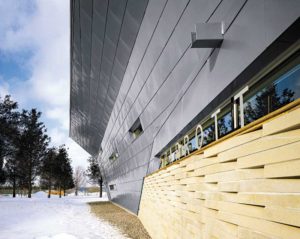 Architectural zinc can be shaped into a multitude of forms—geometric, organic, or curves—to provide innumerable design options. For more budget-conscious projects, specifying standard panel sizes and shapes helps to reduce manufacturing and fabrication costs, as well as time and expenses associated with installation labour.
Specifying for performance
The current industry standard, ASTM B69-20, Standard Specification for Architectural Rolled Zinc, is applicable to wall cladding, roofing, and other exterior building products. It details Type 1 and Type 2 architectural rolled zinc, where Type 2 has a higher copper composition and a graphite-grey patina.
Material compatibility and cautions
Architectural rolled zinc is affected by its surrounding conditions. This means wall cladding products loosely stacked on pallets or platforms must be protected by a weatherproof and ventilated covering. They cannot be stored in contact with other materials that could cause staining, denting, or other surface damage. Acidic materials are of key concern. Avoid placing zinc in contact with or downstream from acidic woods including oak, red cedar, white cedar, larch, hemlock, or chestnut. Red rosin paper produces an acidic vapour and should never be used as a slip sheet; further, pH-neutral sealants should only be used. The manufacturer's recommended storage and handling guidelines should also be followed.
Glass, aluminum, galvanized steel, stainless steel, painted steel, and most solid, dry building materials present no known compatibility issues with zinc. Corrosion can be caused by electrochemical reactions, such as when copper is installed above zinc. Chlorides also are problematic and may be found as an additive in mortar or concrete as a bonding agent or to inhibit freezing. Architectural zinc also should be protected from acidic cleaning agents. Contact with human perspiration should be avoided. Wearing clean gloves when handling and installing the zinc material may be necessary.

Control the content you see on ConstructionCanada.net!
Learn More.