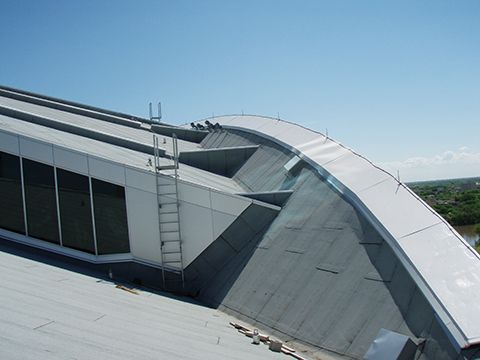 While NFPA, UL, and LPI all publish safety information and installation standards for lightning protection, LPI is the only organization of the three founded specifically to study lightning protection. The organization provides a certification and testing program to qualify competence in lightning protection installation, design and inspection. LPI-certified lightning protection specialists, known as 'Master Installers' or 'Master Installer/Designers' lead the industry in experience and education and know how to interpret the safety standards. They also provide the proper third-party inspection requirements for quality assurance closeout.
In accordance with its stated mission to provide quality in lightning protection for the safety of people and property, LPI relies on two major programs to ensure systems meet the expectations of the public.
LPI qualifies installation companies through its certification testing program, including a series of exams to assure contractors are qualified to the current requirements of the standards. The LPI-IP field inspection program provides independent third-party inspectors who can ensure system compliance in accordance with specified safety standards, explained VanSickle.
"While Canadian Standards Association (CSA) B72 M87, Installation Code for Lightning Protection, is the national standard for Canada, NFPA 780, Standard for the Installation of Lightning, and UL 96A, Standard for Installation Requirements for Lightning Protection Systems, are also commonly specified for our system installations," said Murray Van Norman of Western Lightning Protection in Winnipeg, an LPI Master Installer member company. "Since the CSA doesn't have a certification process, we often use LPI to certify our systems. We believe certification and inspection are important to ensure code-compliant lightning protection systems are installed," added Van Norman.
Western Lightning Protection recently completed a standard-compliant lightning protection system for the Canadian Museum for Human Rights in Winnipeg. (For more information on the Canadian Museum of Human Rights, see the May 2014 article in Construction Canada by Neb Erakovic, M.A.Sc., P.Eng., Crispin Howes, P.Eng., and Terry Dawson, M.Eng., P.Eng.)
The 23-storey structure composed of glass, steel, and stone is the first national museum to be located outside of Ottawa. According to Van Norman, a 5000-m (16,404-ft) glass cloud characterizes the museum's unique architecture.
The CAN/CSA B72 M87 Code references lightning protection guidelines for residences, places of public assembly, and industrial buildings, including structures with explosive or flammable contents. However, it neither covers protection of electrical transmission, distribution, and communication systems, nor provides specific guidelines for quality control and third-party inspection.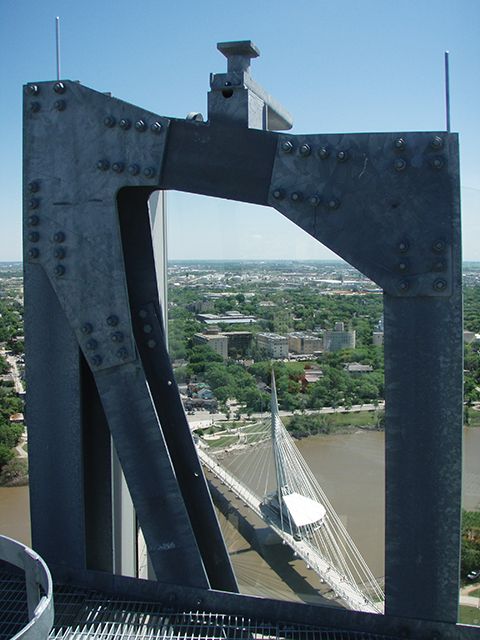 Quality control for lightning protection has always been a priority for the industry and new concerns are on the rise due to a trend developing with outside trades like electrical and roofing contractors attempting to grow their business by dabbling in lightning protection installation. This can be a problem, as lightning protection specifications call for installation in accordance with safety standards, use of UL-listed materials and work performed by LPI-certified lightning protection specialists and/or UL-listed installers.
The International Association of Electrical Inspectors (IAEI) reiterates the importance of LPI-certified and UL-listed installers for lightning protection applications. In 2011, IAEI devoted a new chapter to its 10th edition of the Soares Book on Grounding and Bonding— "The Fundamentals of Lightning Protection." The handbook now includes a reminder to electrical contractors that, "installation of a lightning protection system is much different from the installation of electrical service wiring."
According to Soares Handbook, "specialized material and installation methods such as those specified in NFPA 780 and UL 96 are required and the system should only be installed by qualified personnel trained and certified in the installation of lightning protection systems."
LPI Inspection Program (LPI-IP) is a program that facilitates onsite inspection services, follow-up inspection reports, and the issuance of certification for lightning protection systems that comply with LPI, NFPA, and UL standards. LPI-IP plans to expand its third-party inspection services with Intertek throughout Canada, especially since the program's inspections are now accepted in MasterSpec as a quality control inspection option for lightning protection. The LPI-IP Inspection Program provides system certifications with a three-year expiration date to complement the NFPA three-year code review process and keep pace with new technology.
"Lightning can generate up to 200 kA of electric energy, so quality control for systems is crucial," said VanSickle. "Independent review provides the purest evidence that the installing contractor has met all industry guidelines and complied with recommended practices and safety standards."

Control the content you see on ConstructionCanada.net!
Learn More.