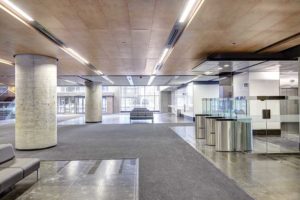 Seismic safety
The National Building Code of Canada (NBC) sets detailed mitigation requirements to protect people and property during seismic events. It is important to note the 2015 edition of NBC now requires design of all buildings to account for seismic effects. This is in contrast with the 2010 edition in which certain cases with a low seismic hazard index were exempt.
Referenced in NBC, the Canadian Standards Association's (CSA's) S832, Seismic risk reduction of operational and functional components (OFCs) of buildings, states:
The main cause of casualties and property damage in the event of an earthquake is often the failure of these OFCs. In many cases, losses associated with damage to these components are considerably greater than damage to the structural systems.
The equivalent static force procedure in accordance with NBC 2015 allows users to determine whether OFCs require seismic restraints using calculations based on three important factors:
building importance factor (i.e. low, normal, high, or post-disaster);
soil type/site class, based on geotechnical survey of the soil profile; and
anticipated ground motion for the location (short-period spectral acceleration).
The requirement for the importance factor, also called the importance category, resides in the structural design part of the code. Its determination, however, is under the purview of the architect and owner, not the structural engineer. Using the project's importance factor and site class, a seismic hazard index can be calculated. This calculation, specified requirements, and determination of construction solutions should be set by a professional engineer and documented in stamped plans.
Since the regulation of building construction is a provincial responsibility, it is up to each province and/or territory to either adopt NBC in its entirety or use it as a basis to develop its own local code. Certain local codes, such as the Ontario Building Code (OBC), note that if the value of the seismic hazard index is equal to or greater than 0.35, restraint will be needed for architectural elements including mechanical and electrical equipment, parapets, light fixtures, and suspended ceilings. Local codes also may require the engineer to inspect the project site to confirm in writing the materials and systems were installed as specified.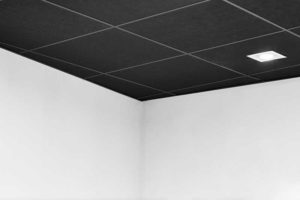 If the importance factor is not considered during the building's early design and specification stage, and if provisions for seismic design, restraint, and inspection are not incorporated in the drawings and specifications for permit and construction, revisions to comply with the code requirements may later result in a difficult and costly surprise.
Specifiers and designers also should exercise caution when referencing ASTM E580, Standard Practice for Installation of Ceiling Suspension Systems for Acoustical Tile and Lay-in Panels in Areas Subject to Earthquake Ground Motions, as this is based on seismic design categories (SDCs) as defined by the International Building Code (IBC), and its practices generally are accepted in Canada.
Similar to NBC 2015 seismic hazard index, but very different in its calculation methodology, SDCs guide the specific product performance installation methods to withstand certain seismic activity levels. These five levels range from SDC A, very small seismic vulnerability, to SDCs E and F, very high seismic vulnerability and near a major fault. In accordance with ASTM E580, seismic clips, stabilizer bars, and seismic separation joints may be required depending on the types of occupancy and soil, geography, and sizes of the ceiling. The building permits will need to refer to SDCs A to F for construction of suspended ceilings weighing less than 9.53 kg/m2 (4 psf).
The suspended ceiling system's exposed tee construction permits direct upward access to mechanical systems and is a cost-effective solution to seismic requirements. Stab-in cross-tees cantilever during installation and will not fall out, making not only for an easier installation, but also for greater protection against lateral pull-out.
A third-party certification on product performance is often referenced as accepted documentation for demonstrating code compliance to the authority having jurisdiction (AHJ). Most ceiling manufacturers in North America list their suspension systems with the International Code Council-Evaluation Service (ICC-ES). Within an ICC-ES report, detailed information on components' dimensions and accessories, such as seismic clips, are described. This description includes duty classification, thickness, flange, bulb, and allowable load and span.

Control the content you see on ConstructionCanada.net!
Learn More.