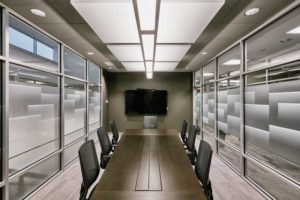 By Isabelle Champagne, CTR
From the time ceiling suspension systems were created, selection criteria have always been based on strength of components, ease of installation, and esthetics. Today, most projects also include safety and sustainability as product characteristics of the ceiling suspension.
A 700-year history
Ceiling suspension systems, also known as T-bar or grid, are a component of modern dropped ceilings. These have been around much longer than most people would suspect. Some of the earliest recorded suspended ceilings are from 14th century Japan. Their use was purely for esthetics and to conceal the unfinished surface above them. They consisted of wood or metal bars arranged in geometric patterns, hung from above, in open interior spaces.
Fast-forwarding to the 1950s, U.S. patent-holder Donald A. Brown is largely credited as the inventor of modern, acoustic, dropped ceilings. This is the era of open-plan office floors with uninterrupted rows of desk workers beneath long spans of ceiling grid. In addition to being quick to install, the success of this system is due in part to maintenance staff's appreciation for the easy access to the space above it by removing ceiling tiles.
Some of the early suspended ceiling designs were less accessible than others. When a light or air vent was to be removed from the middle of the ceiling, it could require displacing an entire row of tiles to get to replace or repair the fixture. An accessible ceiling is now the norm in the global construction industry.
Standard suspended ceiling components
A dropped ceiling consists of metal channels in the shape of an upside-down "T," suspended on wires from the overhead structure, and connected to one another in a regularly spaced pattern of cells. These cells are filled with lightweight ceiling tiles made of a variety of materials, from cellulose and stone wool to fibreglass, aluminum, and steel.
Based on ASTM C635, Standard Specification for the Manufacture, Performance, and Testing of Metal Suspension Systems for Acoustical Tile and Lay-in Panel Ceilings, the common direct-hung suspension system is made of:
main runners (main tees) directly suspended with hanger wires to the above substrate;
cross runners (cross tees) connected to the main tees via their respective end details, which click or hook into themselves in the evenly spaced, punched holes in the main runners;
wall angles used to support the ceiling tiles and suspension components at terminations, such as soffit bulkheads or walls; and
perimeter trim located at the periphery of wall-to-wall ceilings, and can be used as wall moulding or as trim encasing the dropped ceiling in a cloud design.
The suspension components are manufactured from a variety of materials depending on the application. Most commonly, these materials are commercial quality painted steel, hot-dip galvanized steel, aluminum, or stainless steel. Wall mouldings are made of aluminum or steel to match the suspension choice, and aluminum is used for perimeter trims.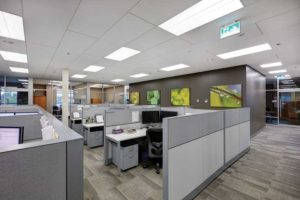 The ceiling system can be based on either an exposed or a concealed grid. Esthetics or a need to frequently access the plenum will dictate that choice. An exposed grid is used for holding acoustical ceiling tiles or metal panels, which are either flush or tegular. The suspension is visible and several types are available to meet these requirements. Concealed grid is used for suspending gypsum boards at the ceiling in lieu of studs, acoustical ceiling tiles with special concealing edges, and specialty metal ceiling systems.
Applications and installations
Suspended ceiling systems affect nearly every commercial interior space and several exterior applications.
Installation methods of ceiling suspension systems on commercial buildings are enforced by ASTM C636, Standard Practice for Installation of Metal Ceiling Suspension Systems for Acoustical Tile and Lay-In Panels. This standard calls for proper installation of ceiling components, such as:
spacing of main runners at 1.2 m (4 ft) on centre (o.c.);
minimum 12-gauge hanger wires;
hanger wire wrapped with three tight turns over 76.2 mm (3 in.) length;
hanger wire within 76.2 mm of expansion reliefs unless otherwise tested; and
counter-sloping allowed under specific circumstances.
Suspension systems are non-structural components of a building and play an important role in safety. They can add valuable extra time for safe egress in the unlikely event of a fire or an earthquake. Securely holding the ceiling components in place, they also help reduce property damage to movable partitions, furniture, and equipment. Finally, they provide a safety net against functional loss within critical facilities, such as data centres, fire stations, hospitals, and other post-disaster facilities, where failure of essential systems would make it difficult or impossible to carry out the facility's functions.

Control the content you see on ConstructionCanada.net!
Learn More.