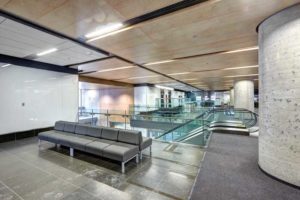 Specialty and drywall suspension systems
In addition to seismic performance, other considerations for special ceiling specifications are:
non-ferrous suspension systems for magnetic resonance imaging (MRI) rooms;
heavy duty main runners for supporting wire baskets in data centres; and
drywall suspension systems for both non-fire rated assemblies and hourly fire-rated floor-ceiling and ceiling-roof assemblies, in condominiums, office buildings, and retail spaces.
Drywall suspensions provide a lightweight alternative structure to traditional cloud construction, where they can replace the steel or wood supports as a cost-effective option for commercial ceiling installation. These systems include furring main runners, which are installed with either a cross tee or cross channel, a hat-shaped piece offering a large knurled surface for drywall screws.
Panel and esthetic options
All suspension systems perform the same function of holding panels in a single plane from the overhead building structure. They will differ in their compatibility with certain styles of panels. They will simplify or embellish the appearance of the finished ceiling.
Suspension systems come in a wide variety of looks and in a range of prices. The industry standard is a 24-mm (15/16-in.) grid face; it is the workhorse in the industry for supporting standard acoustic ceiling panels. The 24-mm suspension is built with a face large enough to suspend semi-concealed and fully concealed acoustical ceiling tiles. These edges types partially or completely conceal the suspension. The 24 mm suspension is used with most specialty lay-in ceiling panels for ease of installation and removal, and is also used with specialty applications, such as clean rooms and data centres. For these high-performance installations, a gasket is applied to the inner face of the suspension to provide positive air pressure isolation between the ceiling plenum and the room below it.
The 14-mm (9/16-in.) suspension system provides an architecturally desirable, narrow face. Bolt-slot options with a 3-mm (1/8-in.) or 6-mm (1/4-in.) reveal can add depth with a shadow line in the centre of the suspension, or centre bulb creating a premium double reveal. The grid fits flush with the face of reveal-edge panels, and mitred intersections provide a clean, tailored appearance. To create these esthetic variations, a tegular edge infill panel is installed with narrow wall angles or with shadow mouldings, often called step moulding because of their resemblance to a small staircase.
Suspensions systems and their accessories, such as wall mouldings, C channels, and perimeter trims can be finished to match or contrast with the ceiling tiles' colour. Finishing options for metal suspension systems include nearly any colour of paint, metallic coatings, and anodizing options, or finishes complementing the look of wood of the panels. White, black, and silver colours remain the most popular choices.
Ceiling suspension systems have been an integral part of office and institutional spaces for decades. They provide an exposed or concealed support system to the ceiling tiles, accommodate light fixtures and other components, and help separate the plenum space from the working area. As a sixth plane complementing walls and floors, ceilings have become the focus for elegant, functional, acoustical, and sustainable characteristics. Ceilings cannot meet expectations without their backbone—their suspension systems.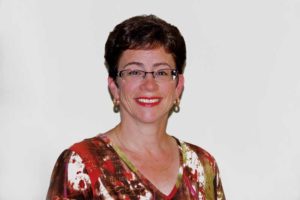 Isabelle Champagne, CTR, is Rockfon's architectural sales manager for Ontario and Québec. A CSC member, she has worked in the construction industry for more than 30 years. Champagne is also a member of the Canadian Healthcare Engineering Society (CHES) and the Acoustical Society of Canada (CAA). Champagne can be reached at isabelle.champagne@rockfon.com.

Control the content you see on ConstructionCanada.net!
Learn More.