COMBINING SOUND PRIVACY WITH MODERN ESTHETICS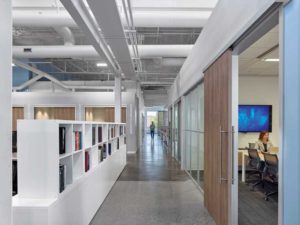 Aercoustics Engineering wanted to create a modern, acoustically comfortable, and pleasing office environment. Its new 836-m2 (9000-sf) office in Mississauga, Ont., transformed a former warehouse space attached to a larger multitenant office building. The design and construction team included iN Studio, general contractor (GC) mform Construction Group, and installing contractor Maxxan.
The challenge was to leverage the dynamics of collaborative office space—with glass walls and doors to maintain visual connection to the daylit open areas—yet create sound privacy and acoustic comfort in enclosed meeting rooms and other areas. Stone wool ceiling panels, metal perimeter trim, and suspension systems were a key part of the solution in meeting Aercoustics' project goals.
Different acoustic ceiling tiles, all from the same manufacturer, were specified to achieve the unique goals of each room's function. For example, in the smaller, private telephone rooms, stone wool ceiling panels with high sound absorption were installed into a 14-mm (9/16-in.) exposed suspension system. In addition to the acoustic ceiling panels, large sliding wood doors with acoustic seals enable staff to take a call or attend a video conference with full access to their server-based network, confident their conversations are not overheard or disturbing others outside the room.
Aercoustics required a noise reduction coefficient (NRC) of 0.80 or greater in most of its meeting rooms. The larger meeting rooms were constructed with architectural glass walls and custom doors to help with sound isolation and privacy, while maintaining a modern esthetic.
The ceiling manufacturer customized the panels in the enclosed meeting and collaboration spaces to enhance the visual interest, as well as to accommodate each room's lighting and HVAC equipment. Adding to these attractive ceilings, metal perimeter trim integrates with the 14-mm suspension systems to provide a neat, clean edge.
The mildly textured, reflective white surface of the stone wool panels reflects up to 85 per cent of available light. This better distribution of natural light combined with the office's efficient lighting fixtures helps to lower the use of electricity and cooling, saving both energy and associated costs. Further helping the people in the meeting rooms be comfortable, each features its own HVAC controls.
While bright, white, light-reflective ceilings were specified for the meeting rooms, a different esthetic was required for the acoustic demonstration studio. Here, black panels were used to create a dramatic effect. These low-reflection, black surfaces and high-performing sound-absorptive ceiling panels cost-effectively improve both the studio's visual and acoustic experience.
The office staff also can feel more confident in the safety of their workspace. The metal ceiling suspension system is International Code Council-Evaluation Service (ICC-ES) listed for seismic applications and flame spread Class A rated. Stone wool also is non-combustible and does not contribute to the development or spread of fire.
Metal and stone wool have no nutritional value for harmful organisms such as mould or bacteria, helping maintain cleaner, healthier indoor air quality (IAQ). Additionally, the stone wool acoustic ceiling solutions installed in Aercoustics' offices have earned the Underwriters Laboratories' (UL's) GreenGuard Gold certification for low-emitting products and can withstand high levels of humidity.
Along with contributing to comfortable acoustics and lighting, the ceiling panels are made from basalt rock and contain up to 42 per cent recycled material. The metal perimeter trim and suspension systems also contain a high percentage of recycled content and, at the end of their use as part of a ceiling system, can be locally recycled.

Control the content you see on ConstructionCanada.net!
Learn More.