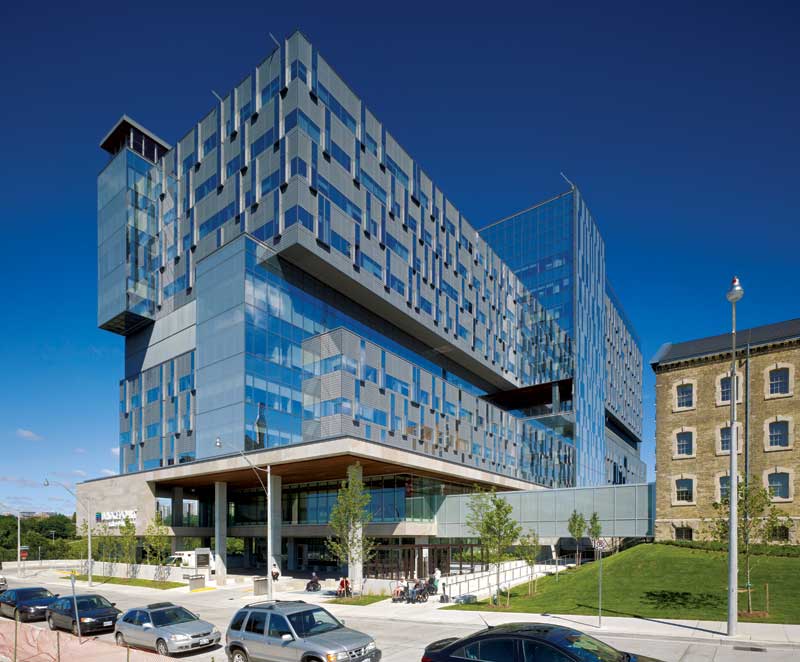 by Scott Moffatt
Historically, liquid fluoropolymer coatings have been the product of choice for coating aluminum architectural components in Canada. This is due to the extensive colour and gloss options, and their ability to be economically produced in small batches of custom hues. However, in recent years, powder coatings have increased market share in aluminum applications due to increased demand for more environmentally conscious coatings. Technical advances have made custom colour production and small-batching more economical for powder coatings.
This article examines the appearance, environmental, and performance attributes of liquid and powder fluoropolymers coatings with the goal of helping architects and specifiers choose the best technology for their building projects.
Appearance considerations
Architectural coatings are available in solid, mica, and metallic formulas. For years, metallics have been the preferred choice of architects because of its brightness and sparkle.
When matching liquid and powder coatings for a specific building or application, solid colours are relatively easy to harmonize, but mica and metallic coatings are much more difficult. There are several reasons for this.
First, coatings manufacturers cannot mix the same percentage of micas and metallics into a powder formulation as they can into a liquid coating without causing the pigment to fall out and settle. This not only limits its ability to match the liquid version of a specified coating, but it also produces less-defined particles and a muted appearance in the final paint film.
Even when coatings manufacturers can achieve a perfect match between powder and liquid colours on one angle of a panel, the colour can change dramatically when it changes or 'flops.' Matching finishes with mica is further complicated because powder coatings require a bond with the resin to ensure particles are homogenous and apply consistently to the finished part.
Secondly, when formulating liquid metallic coatings, it is mandatory to apply a clear coat over the colour coat to protect the metal flake from ultraviolet (UV) exposure. Powder coatings are predominately one-coat finishes and rarely incorporate primers or clear coats.1 While some metallic powder coatings can achieve the chalk and fade requirements of American Architectural Manufacturers Association (AAMA) 2604, Performance Requirements and Test Procedures for High Performing Organic Coatings on Aluminum Extrusions and Panels, the lack of clear coat prevents many of them from meeting the high standards established in AAMA 2605, Performance Requirements and Test Procedures for Superior Performing Organic Coatings on Aluminum Extrusions and Panels. Some coatings manufacturers now offer a clear coat option to meet the AAMA 2605 specification. Without it, the pigment would not be durable enough to do so.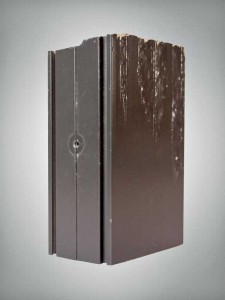 Film thickness is another factor impeding the matching of liquid and powder coatings. Liquid coatings are, on average, 25 µm (1 mil) thick for a two-coat primer and topcoat system, while one-coat powder systems are approximately 63 to 76 µm (2.5 to 3 mils) in thickness. As a result, there is not only proportionally less mica or metallic in the powder formulation compared to a liquid version, but also three times the paint thickness—further diminishing the effect of the pigmentation.2
Finally, powder coatings generally produce more of an orange peel effect, causing them to look significantly different than the smooth paint films generated with liquid coatings. While liquid coatings can be adjusted for smoothness by adding solvents on the application line, it is not feasible with powder coatings, which have little to no volatile organic compound (VOC) content due to the absence of solvents. The increased thickness of powder coating paint films also makes them less smooth in appearance.
Sustainability factors
Examining the merits of liquid- and powder-applied coatings for sustainable design and construction involves a wide array of factors related to their formulations and applications. Powder coatings are favourable because of their low VOC content. They are made without solvents, and as a result, emit zero to low levels of VOCs. Liquid coatings are made with solvents, which emit VOCs.
Most liquid coating extrusion applicators overcome this challenge by incinerating emitted VOCs and using them as fuel for production purposes. This makes the process more efficient but still requires the consumption of natural gas and, therefore, the emission of carbon.
Powder coatings incorporate material recovery systems during application to recycle powder and increase production efficiency compared to liquid coatings. They also require less energy to transport. Liquid coatings are manufactured and shipped in solvents (liquid), increasing packaging and shipping costs, and the total energy necessary to transport the liquid coatings.
For these reasons, powder coatings, when used in the right applications, are generally perceived to be more environmentally friendly than liquid coatings. However, for most architectural applications, the answer is not definitive, particularly when performance standards and issues such as long-term durability and corrosion resistance are considered.

Control the content you see on ConstructionCanada.net!
Learn More.