The UV durability quotient
AAMA defines the prevailing performance standards for aluminum extrusions in North America. Three voluntary specifications apply:
AAMA 2603, Performance Requirements and Test Procedures for Pigmented Organic Coatings on Aluminum Extrusions and Panels, for basic coatings;
AAMA 2604 for high-performance coatings; and
AAMA 2605 for superior coatings.
Each specification establishes minimum thresholds for chalk resistance, fade resistance, colour fastness, colour retention, gloss retention, and other performance criteria. The most rigorous specification, AAMA 2605, is the most commonly installed standard for monumental and commercial construction applications in North America.
Architects and specifiers face little risk when specifying fluoropolymer liquid coatings to AAMA 2605 because most companies formulate coatings with a proven, finite set of durable pigments to meet the standard. These products have a 50-year track record of durability and performance in North America's harsh, UV-intense climates.
Many contemporary powder coatings are formulated using the same proven pigmentation and resin technologies as fluoropolymer liquid coatings. That means architects who want the environmental advantages of powder coatings can now diminish liability risk by specifying products that meet AAMA 2605 performance criteria. However, such products should be sourced from manufacturers with long-term pigment and resin exposure data.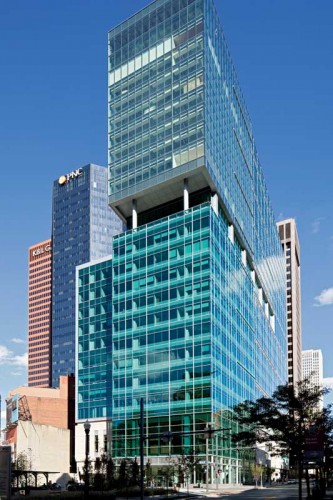 Powder coatings are formulated using two different types of fluoropolymer technology. Those made with 70 per cent polyvinylidene (PVDF) resin, are based on the same formulation successfully used in liquid coatings for 50 years. However, they do not adhere well when applied directly to a metal substrate. Therefore, powder coatings based on this resin technology must be applied over a primer to be effective.
The second fluoropolymer technology, fluoroethylene vinyl ether (FEVE) resin, is increasingly popular among architects as a one-coat finish option because it adheres well to aluminum and offers the same exceptional levels of chalk resistance and colour retention as the 70 per cent PVDF coatings. Although FEVE resins do not have the same 50-year Southern Florida exposure history as PVDF resins, the data compiled to date for these products is comparable.
Seacoast performance
Performance requirements for coatings in seacoast environments are even more stringent than those for normal environments. This is due to the increased risk of corrosion from heat, humidity, salt, wind, and other atmospheric factors. While the current AAMA 2605 standard addresses finish properties as they relate to weathering, they do not address seacoast performance.
As the population migrates toward coastal areas, demands on the coatings industry to address the corrosive effects of salt on aluminum curtain walls, panels, roofs, and other components have become increasingly urgent. Unfortunately, the best solutions—chrome pretreatment and chrome primers—are at odds with a growing demand for a more ecologically conscious pretreatment and coatings system.
Although significant advances have been made in FEVE-based one-coat powder formulations, two-layer systems with chrome in both the pretreatment stage and primer still provide the most robust protection against corrosion. In industry-standard exposure testing, held in Daytona Beach, Fla., one-coat powder coatings have been known to fail within six months to two years due to filiform corrosion, which typically infiltrates the cut-edge layer on aluminum parts and forms beneath the paint film. In fact, because of its added thickness compared to two-coat liquid coatings, one-coat powders tend to accelerate the onset of filiform corrosion by trapping moisture beneath the paint film and preventing its release without a primer to protect the substrate.
Chrome-based primers combat this problem in two ways. First, they create a moisture barrier between the aluminum and paint film and, second, they incorporate chrome as a metal-protection agent.3 Two-coat liquid and powder coatings systems incorporating both a primer and chrome pretreatment have demonstrated sustained corrosion resistance; however, when comparing coatings, specifiers should note chrome-containing liquid coatings have surpassed 20 years of seacoast corrosion without failure. Powder primers—which do not contain chrome—have achieved similar performance, but have only been tested for a little over eight years.
In short, chrome pretreatments and primers have environmental drawbacks, yet field-testing and real-world performance demonstrate they provide the most effective long-term protection of aluminum in seacoast environments. They are also the best option to limit negative environmental impacts such as premature coating failure or necessary repeated field-application.

Control the content you see on ConstructionCanada.net!
Learn More.