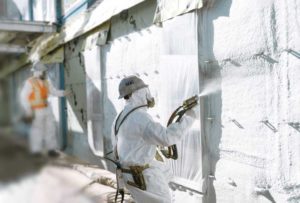 By Maxime Duzyk
The last thing an architect or building engineer wants is a limited vision. The last thing a developer wants is delayed delivery and cost increase. The last thing a building owner wants is a costly, uncomfortable, unsafe building space. Hydrofluoroolefin (HFO) spray foam insulation can solve these concerns, with its flexibility, ease of installation, and complete moisture, air, and vapour barrier capabilities. Architects and building engineers can be confident that no matter the angle, thickness, or complexity of a given wall, roof, or foundation, an HFO closed cell spray foam can fufil their vision and avoid the need for redesigns during the construction process.
Spray foam contributes to both immediate construction needs and long-term building results, as it meets several building standards. The product standard for an HFO closed cell spray foam is CAN/ULC S705.1 and its install standard is CAN/ULC S705.2. Some products also comply with CAN/ULC S101 for tall buildings. Thermal resistance is tested in accordance with CAN/ULC 770-09; fire compliance for the product in accordance with CAN/ULC S102; air barrier compliance for the product in accordance with CAN/ULC S741 and for the air barrier system in accordance with CAN/ULC S742.
For architects and building engineers, deploying the perfect building envelope can sometimes come into conflict with the original vision, goals, and projected timeline for a given project. Walls drawn by an architect may be too thin or may curve too much to be properly insulated using traditional solutions, and specifying certain types of insulation can delay project timelines due to unfavourable weather or temperature drops, complex construction sequencing, etc. Developers are always striving to manage as many factors as possible in the pursuit of accurate and efficient project timelines. However, elements such as the weather and unique architecture could have consequences on building codes, timely construction, or key project milestones.