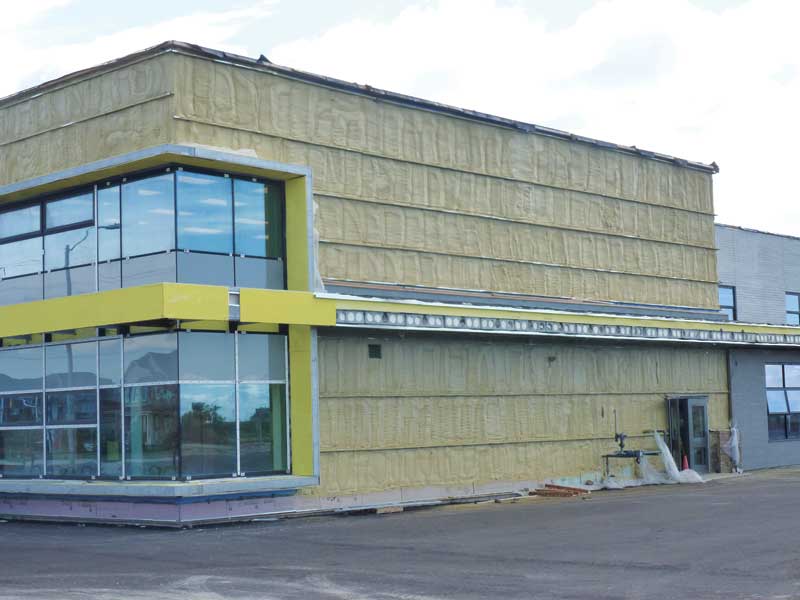 By Peter Birkbeck, CTR
With varying degrees of detail and prescription, Canadian building codes—regardless of the model code—require all buildings to be provided with an air barrier. Where the language is more performance-oriented, such as in Part 5 of the National Building Code of Canada (NBC) and Part 3 of the National Energy Code of Canada for Buildings (NECB), key concepts such as "system" and "continuity" are introduced as well as quantitative criteria.
In emerging residential codes, these are also now becoming more precise. For example, in the energy efficiency provisions contained in NBC Section 9.36, where both material and assembly criteria are presented. (Notably Clauses 9.36.9 and 9.36.10.) Clauses in this code require a conforming air barrier assembly be qualified to CAN/ULC S742, Standard for Air Barrier Assemblies−Specification, or alternatively, with certain special conditions, ASTM E2357, Standard Test Method for Determining Air Leakage of Air Barrier Assemblies.
Defining an air barrier (and its benefits)
An air barrier system consists of building assemblies composed of continuously joined components. The function of the system is to provide control of air leakage into and out of the building enclosure. Such a system can be located at various points in the building, above or below grade. This typically involves an environmental separation of conditioned from unconditioned space. The primary results of the incorporation of such systems can include:
ensuring occupant comfort;
preventing ingress of bulk moisture;
controlling conditions that would lead to interstitial condensation; and
preventing the ingress of soil gases.
In addition to wasting energy and potentially causing damage to building components, uncontrolled air leakage has the potential to introduce outside contaminants into the building. Some time ago, researchers had previously estimated possible reductions in HVAC loads in buildings incorporating air barrier systems as up to 50 per cent in residential buildings and up to 33 per cent in office buildings. (For more on the statistic for residential projects, see "Air Tightness in New U.S. Housing," by Sherman and Matson, which was published in the 1997 Proceedings of the 22nd Conference of the Air Infiltration and Ventilation Centre. For more on the office buildings angle, see Emmerich and Persily's "Airtightness of Commercial Buildings in the United States," published in the 2005 Proceedings of the 26th IEA Conference of the Air Infiltration and Ventilation Centre.)
While an air barrier component can be mechanically fastened, fluid-applied, self-adhered, an insulated or non-insulated rigid sheathing, a sealant, or sprayed polyurethane foam (SPF), exterior insulation is becoming essential to achieving energy efficiency targets in commercial and residential construction. Providing a thermal control layer outboard of the framing or substrate also provides for greater control over thermal bridging. SPF is an increasingly common way of achieving this.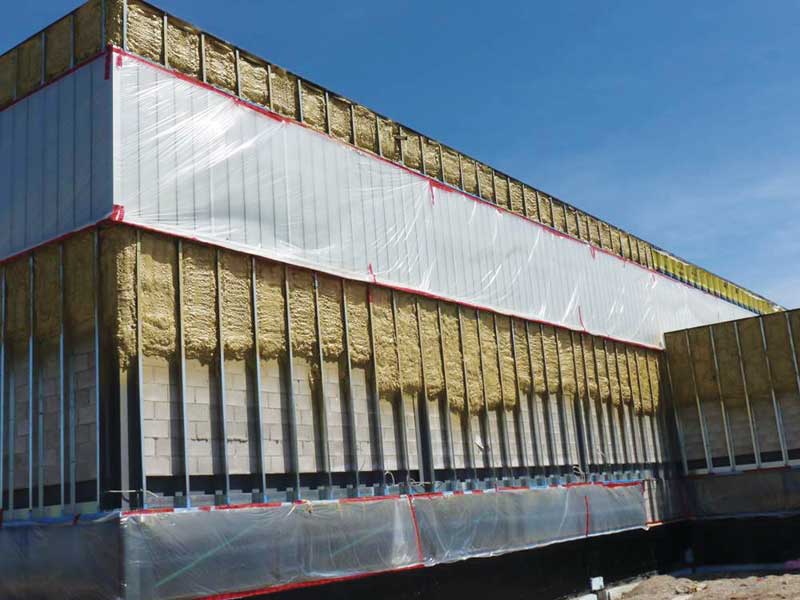 Considering sprayed polyurethane foam as a major component of an air barrier system
Low-rise exterior wall air barrier systems incorporating SPF are truly multi-functional. In these systems, the SPF is self-supporting and the principal component of airtightness; it offers a high RSI-value (R-value) thermal insulation, controlling heat loss from both conductive and convective flows. In the case of medium-density sprayfoam, integral control of water vapour transmission and a resistive barrier to water is also provided.
To properly function, air barrier assemblies must have a low air leakage rate. However, they must also be continuous, buildable in the field, durable, and resistant to conditions during the service life of the building, such as pressures exerted on them by wind, mechanical systems, and related phenomena internal to the structure, such as the stack effect.
Continuity across different junctions and between dissimilar materials will normally require some other components. Sprayfoam, however, with its adhesion to most substrates and monolithic, seamless installation that conforms to the shape and surface of the substrate, can often reduce the number of individual components required.
There are numerous possibilities for auxiliary components and accessories for these systems. Common ones take the following forms:
through-wall flashings;
transition membranes (e.g. sheet goods and liquid-applied);
sealants;
backer rods; and
termination bars.
There is a growing number of suppliers and grades of all these products. In terms of the sprayfoam manufacturer, an assembly of such identified components, installed to a specified substrate, can be considered a proprietary solution. Such a solution can be issued an Evaluation Report by the Canadian Construction Materials Centre (CCMC).

Control the content you see on ConstructionCanada.net!
Learn More.