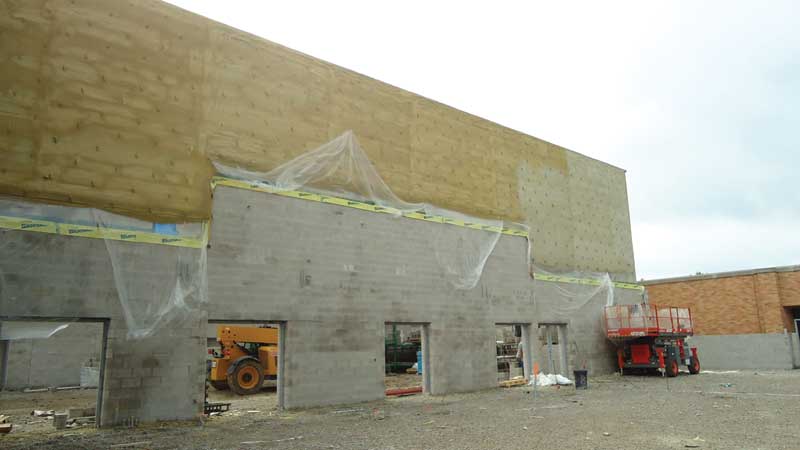 Installation considerations
Whether or not activities to install certain components are subcontracted, the sprayfoam contractor is ultimately responsible for all aspects of the air barrier system installation. To assist the contractor, the air barrier system supplier (proponent) should supply an installation manual covering all components, as well as design details describing how the components go together.
This responsibility includes quality control (QC) at different phases of the work. For instance, in systems incorporating self-adhering membrane that will later be sprayed over, tests such as adhesion tests of the membrane at pre-determined intervals would be included. Again, the installation manual should contain all the relevant quality control information, such as the proper sequencing, placement, and fastening of components.
For any required components not manufactured by the sprayfoam supplier, the manufacturers' installation instructions should be accessed and strictly followed. It cannot be assumed the installation aspects of different sprayfoam manufacturers' air barrier systems are the same, or in any way interchangeable. For instance, a system incorporating exterior gypsum sheathing as a substrate may have board joints pre-treated in some way with an accessory product (e.g. a tape or sealant) while other similar systems may not. Brick ties may be treated with sealant in some systems, but not in others. Further, self-adhered membrane products, common in these air barriers, may require a primer to be used. These, or any other component, may have temperature or other limitations, such as cure time or working time, which must be considered 
before and during the anticipated course of 
the project.
Essentially, the system should be constructed as detailed by the sprayfoam manufacturer (proponent). Substitutions or alternates for any component that were not qualified by the testing laboratory should not be allowed, as they could alter the performance of the system due to inferior physical characteristics or incompatibility with adjacent materials.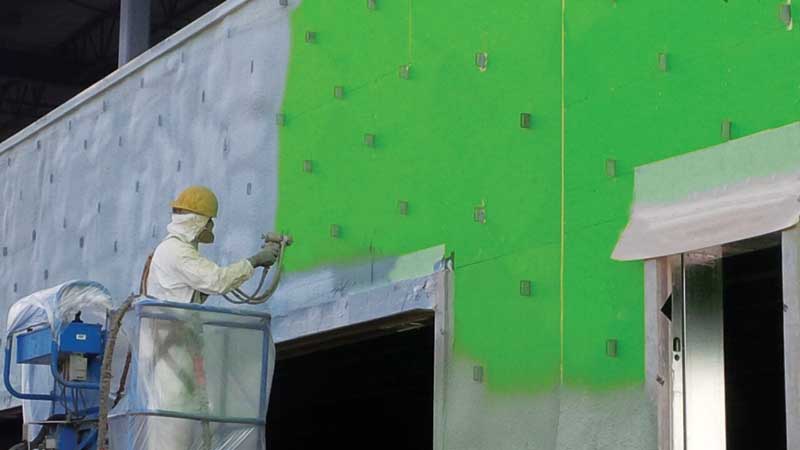 Sprayfoam installation
It is essential the sprayfoam contractor be licensed by a certification organization to install the particular brand and type of SPF specific to the air barrier system. (At the time of writing, this author noted three providers offer these services: the Canadian Urethane Foam Contractors Association (CUFCA), Morrison Hershfield, and Urethane Foam Consultants (UFC).) The grade of sprayfoam specified in the air barrier system should not be substituted, even though a particular manufacturer may offer multiple grades. The thickness of the sprayfoam, as specified in the system, must be achieved, as well as the manufacturers' minimum declared density.
Medium-density SPF should be installed in accordance with CAN/ULC S705.2, Standard for Thermal Insulation–Rigid Spray-Applied Polyurethane Foam, Medium Density–Application. The contractor should also have received training in the installation of the entire system and credentials to evidence this should be readily available. This could also be a license issued by an accredited certification organization.
It is important the sprayfoam manufacturers' recommendations on pass thickness be strictly followed. In accordance with Canadian national standards, sprayfoam pass thicknesses for medium-density (i.e. 2-lb or closed-cell) SPF can neither be less than 15 mm (0.6 in.) nor exceed 50 mm (2 in.).
While it is unlikely any sprayfoam air barrier system will be compliant at less than 25 mm (1 in.) thickness, SPF installed at a thicker pass than 50 mm (2 in.) could compromise the adhesion of some air barrier component products, or lead to their deformation or degradation. Notably, the adhesion of self-adhered transition membranes can sometimes be affected, due to the exothermic nature of the polyurethane reaction. However, in some cases, an initial SPF pass of minimum thickness has to be found to be of benefit in preventing this potential problem. (As these systems gain popularity, there are also new purpose-designed accessories that, for example, can assist in protecting specific air barrier system components from overspray.)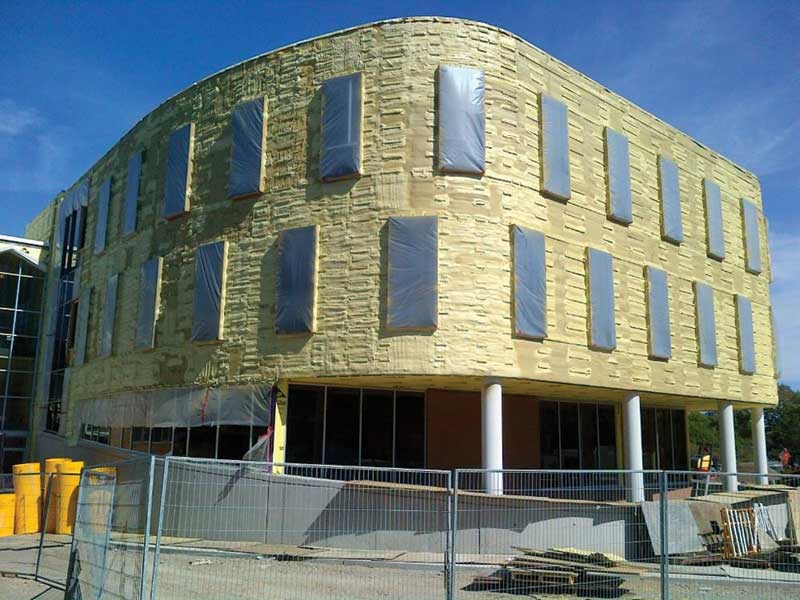 System documentation
For SPF-based air barrier systems, an enhanced version of the mandatory sprayfoam "Daily Work Record" will typically be used to record the site conditions, the materials used, and any site testing. The record of the testing will include the required testing of the sprayfoam, such as density, adhesion, and cohesion, along with that for any air barrier components, such as pull-off adhesion testing. Pull-off adhesion testing is usually performed in accordance with ASTM D4541, Standard Test Method for Pull-Off Strength of Coatings Using Portable Adhesion Testers.
The minimum criteria for test frequency and what constitutes an acceptable test result for the sprayfoam, as well as for any components, may vary depending on the system. These aspects should be described in the quality control manual.
Again, CCMC evaluation reports are an initial source of information for the entire system. Important points to note in these reports are the limitations (e.g. building type and location [wind pressure values]) and the particular components, including supplier and grade.
Conclusion
An air barrier system must be installed as specified, with the prescribed components. Particular attention to the limitations, detailing, and sequencing of these components is essential. The CCMC evaluation report for the system is an important resource, and a credible opinion concerning its performance relative to building code requirements. The designer need not spend valuable professional time researching compatible components that will perform.
When procured, installed, and detailed as specified, sprayed polyurethane foam air barrier systems for low-rise exterior walls can result in durable, high-performance building enclosures. The sprayfoam component functions as the exterior thermal, vapour, and moisture control layer. The seamless, self-supporting, monolithic nature of SPF can contribute to achieving air barrier continuity, especially with building exteriors with complex shapes.
Systems incorporating sprayed polyurethane foam as the principal plane of airtightness often require less pre-treatment of penetrations and fewer components than other comparable systems. That can result in fewer compatibility issues and accelerated delivery of projects, often at reduced cost. (For further reading, this author suggest the National Research Council of Canada's (NRC's) 1997 report, "Air Barrier Systems for Walls of Low-Rise Buildings: Performance and Assessment" (40635) and its Construction Technology Update 46, "A Method for Evaluating Air Barrier Systems and Materials," by Bruno DiLenardo. A comprehensive treatment of this topic, from design to construction, can be found in the paper, "Guidelines for Delivering Effective Air Barrier Systems," by Kevin Knight and Bryan Boyle, published by the Ontario Association of Architects (OAA) and the Canada Mortgage and Housing Corporation (CMHC) in 2002.)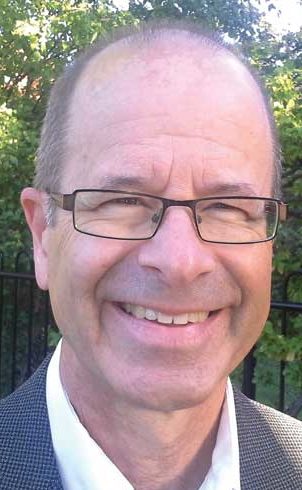 Peter Birkbeck, CTR, LEED Green Associate, is an associate specialist with the engineering division of Icynene Inc., a manufacturer of sprayed polyurethane foam (SPF) systems. He has 20 years of experience in polyurethane formulation, manufacturing, and technical support. Birkbeck is active on numerous industry consensus committees, and is a member of ASTM and the Canadian Home Builders' Association (CHBA) Technical Research Commitee. He can be reached via e-mail at pbirkbeck@icynene.com.

Control the content you see on ConstructionCanada.net!
Learn More.