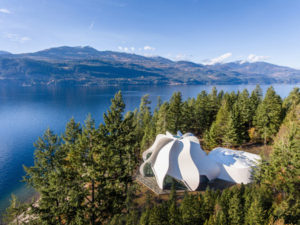 The Temple of Light in Kootenay Bay, B.C., by Patkau Architects, has won the 2019 Wood Innovation Award by WoodWorks British Columbia. This award recognizes creative and innovative approaches in the use of wood in building design, product design, and/or processes.
Calling it an "experience out of wood", the jury noted the project's complex, curvilinear geometry, and the diversity and flexibility of using wood.
Now in its 15th year, the wood design awards recognize innovation and leadership in advancing wood use in design and building, while honouring structural and architectural achievement using wood. There were 103 nominations in 14 categories from many locations in British Columbia as well as the United States and Asia.
"We are seeing much larger, taller, and more complex structures and new building types that have been made possible with wood product research and development, advanced engineering, and construction practices," said Lynn Embury-Williams, executive director of WoodWorks British Columbia. "The bold visionaries and early adopters in the BC design community have made BC a global leader in wood design and construction."
Click here to see the full list of winners.