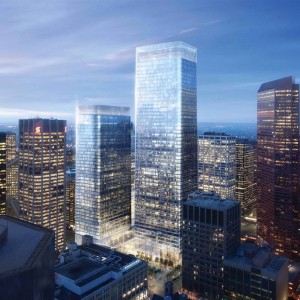 The plans for the construction of Calgary's tallest structure have been released by Brookfield Office Properties.
The 56-storey, 130,064-m2 (1.4 million-sf) Brookfield Place Calgary's eastern tower will replace the former site of the Calgary Herald's building. Canadian oil company, Cenovus Energy, has already agreed to rent 92,903 m2 (1 million sf) of the building for its employees.
Currently, about 2000 Cenovus workers are located within Calgary's iconic structure, The Bow. These staff members will stay, but the new Brookfield Place Calgary will provide a single space for the hundreds of workers dispersed among 10 other facilities downtown.
Additionally, a second approximately 92,903-m2 (1 million-sf) office tower will be constructed as part of the development. This part of the project will include:
8.2-m (60-ft) high glass pavilion;
restaurants and retail space at street level;
underground parking for 1100 vehicles; and
2023-m2 (21,780-sf) public plaza crossing the site.
The development is targeting Leadership in Energy and Environmental Design (LEED) Gold. Construction is set to begin in September with completion scheduled for 2017.