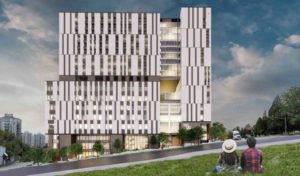 A new project, worth $293 million, at Douglas College in New Westminster, British Columbia, is looking to achieve BC Energy Step Code 4, the highest step in housing and residential construction targeting net zero ready build.
The building's management systems will provide smart controls for the HVAC, lighting, and energy systems optimizing environmental performance and energy management. Efficient water use will be obtained through low flow fixtures.
The project aims to meet Leadership in Energy and Environmental Design (LEED) Gold certification, and is complying with the college's environmental policy to reach the maximum level of sustainability and energy efficiency.
Global design firm Stantec's Vancouver team is leading the project's architecture, interior design, mechanical and electrical engineering, sustainability and building performance, acoustics, and Indigenous engagement services. Graham Construction is the construction manager on the project, while RJC Engineering will handle structural engineering.
The building will feature an 18,580-m2 (200,000-sf) academic centre, and a 12,077-m2 (130,000-sf) student housing complex. The academic centre will share the same structural podium as the student housing component to encourage a sense of community and social and academic interchange. The housing will feature 368 beds in a private and traditional shared student housing layout.