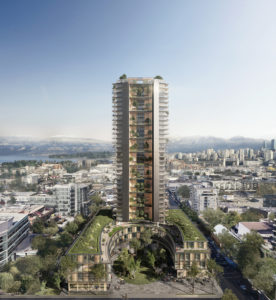 A Vancouver developer has proposed a mass timber, Passive House skyscraper that could be the world's tallest wood tower.
Delta Land Corporation is working with architect Peter Busby from Perkins + Will to design the 35 to 40-storey Canada Earth Tower with the aim of setting a new benchmark for environmental performance and human health and well-being.
The B.C. government recently changed its building code to allow for wood buildings up to 12 storeys, and the federal government is expected to do the same next year.
Canada's Earth Tower will:
use locally manufactured and processed mass timber, as well as engineered wood such as cross-laminated timber (CLT)/glue-laminated timber (GLT)/dowel-laminated timber (DLT);
use a hybrid technique that will use reinforced concrete elevator cores to provide lateral stability to the structure, while engineered wood columns and composite floors will comprise the structure of the occupied spaces;
demonstrate fire and structural safety in a challenging urban seismic environment;
aim to set a new benchmark for sustainable building performance and wood construction, with an ultimate goal of lowering the greenhouse gas (GHG) emissions; and
leverage occupant benefits through exposure to mass timber.