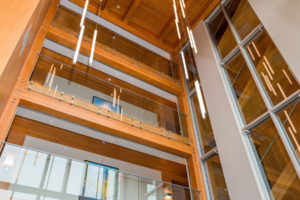 British Columbia has changed its building code to allow the construction of tall wood buildings, up to 12 storeys.
Until now, the B.C. Building Code (BCBC) as well as the National Building Code (NBC) permitted the construction of only six-storey wood buildings.
The change comes a year ahead of the anticipated 2020 update to NBC that is expected to allow mass timber construction up to 12 storeys. The technology has been reviewed by the NBC committees, as well as fire safety specialists, structural engineers, architects, scientists, and builders.
The Ministry of Municipal Affairs and Housing will contact local governments with a request for expressions of interest and detailing the next steps for any local governments interested in this voluntary program. Eligible local governments throughout B.C. can become early adopters of mass-timber technology for construction of buildings.
"Changes to the national building code that allow for taller wood buildings take effect next year, but we are not waiting to get started," said Premier John Horgan. "Our government is ready to work with communities to build safe, secure, and green tall wood buildings that will create jobs, grow B.C.'s value-added sector, and realize our low-carbon future."
In response, the Cement Association of Canada (CAC) expressed surprise at this announcement by the British Columbia government.
"While the BC Government's intent to increase market share for BC wood products is understandable, and while the Cement Association supports the Horgan Government's actions to address a severe affordable housing situation, allowing municipalities to approve 12 storey encapsulated mass timber construction in the absence of approved seismic specifications for this form of construction is premature," said Michael McSweeney, president of CAC. "Canada's codes and standards system is the envy of the world and all governments should support the development of rigorous codes that hold the trust of the people and protect its citizens."