Attachment components and practices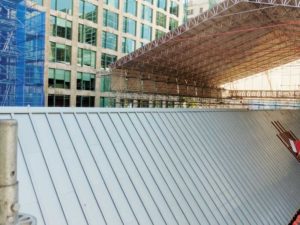 Rolled zinc has a coefficient of thermal expansion that is slightly more than aluminum. In order to allow movement of the zinc roof panel, the preferred attachment method is indirect attachment with concealed clips. These should be fabricated from light-gauge type 304/316 stainless steel.
All attachment components should be fabricated from stainless steel or exterior-grade polymer-coated steel. Fasteners for panel clips are usually #10 screws, at least 25 mm (1 in.) long with an appropriate drill point. Concealed offset cleats used to retain the leading edge of the panel should be corrosion-resistant metal, sized appropriately, and attached with the correct fastening method, often screws. Generally, exposed screws or rivets connecting two zinc profiles should be avoided unless approved in advance by the architect.
Securely attaching panels becomes even more important for lengths greater than 3048 mm (120 in.). All zinc profiles should be 'fixed,' but only for a short distance—every 915 to 1219 mm (36 to 48 in.) is typically recommended. For long panels, one-piece fixed clips should be used with the fixing zone and two-piece sliding clips for the balance of the seam. Locating the fixing zone depends on the roof's slope. Steep slopes require fixing the panels closer to the ridge allowing more downslope movement.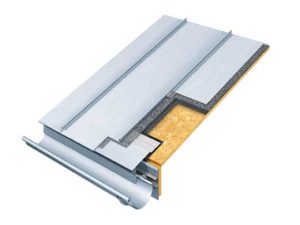 Attachment of all zinc roof panels should accommodate panel movement of approximately 6 mm (0.25 in.) per 3048 mm (120 in.) per 55 C (100 F) temperature change. The total design temperature fluctuation should be only 67 C (220 F). Based on the metal temperature at the time of installation, the contractor should calculate the maximum movement and ensure that panel ends do not disengage or 'bottom out' in extreme conditions. It is important to remember, differences in climate conditions and exposure can also produce different esthetic results.
It is also essential to understand zinc roofs cannot be the primary waterproof barrier. Instead, zinc roof profiles should be applied as a ventilated dry-joint cladding or a 'rainscreen' roof strategy. This design alternative allows for pressure equalization, backside drying, and moisture escape, rather than causing potential damage to the zinc and leaks in the roof.
Above-sheathing ventilation mats should be a requirement of every zinc roof assembly. Use an 8 to 10 mm (0.31 to 0.39 in.) structured underlayment comprised of entangled nylon wire to elevate the zinc panel, creating a capillary break with a 10 mm (375 mils) airspace to help keep the underside of the profile dry. It is advisable to not accept a substitution of this air space and capillary break with a backside paint coating or other barrier strategy.
Self-adhered high temperature roof underlayments are often specified at vulnerable roof conditions where openings in the deck are found. Synthetic felts applied with cap nails can provide fewer seams. Red rosin paper, conventional felt, and any other moisture-holding material also should be prohibited in every zinc application and related specification.
To facilitate moisture drainage from the vented space, the roof panel should have a soft bend past the drip edge (cleat). This open hook promotes water drainage from the end pocket formed by the panel hook. Zinc profile end folds also should be 'soft' with the raw zinc edge parallel to the ground and not closed tight. Final instructions should be confirmed by a licensed engineer.
Excessive use of sealants can plug weep holes, limit airflow, trap moisture, create adverse reactions, or restrict the metal's movement. For any proposed use of tube or tape sealants within laps or other concealed applications, it is advisable to consult the zinc manufacturer.
Further, it is recommended to consider an addition to the shop drawing submittal for engineering calculations that include directions regarding fastening patterns, clip spacing, and added density at the roof perimeter and corners. As always, specify engineering calculations to meet code and project load conditions.
Conclusion
Design and specification by an experienced zinc manufacturing representative and regional fabricator will ensure the project and its zinc roof provide the natural look, lasting performance, and a century of use. At the end of its service life, zinc can be recycled for future use.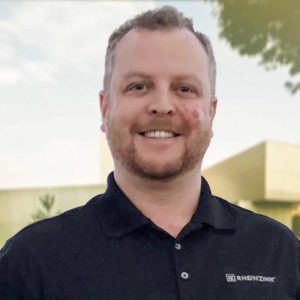 Richard Strickland is a Rheinzink regional sales manager for Canada. Strickland has extensive hands-on knowledge of the metal buildings industry. He can be reached via e-mail at richard.strickland@rheinzink.com.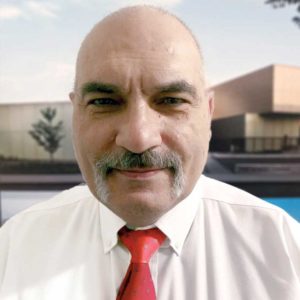 Peter Gatto has been part of the Agway Metals team since 2002. His experience with the company and previous work responsibilities has provided him with extensive knowledge of the metal cladding industry. Since 2004, Gatto has been responsible for the company's zinc products including working closely with Rheinzink America. He can be reached via e-mail at pgatto@agwaymetals.com.

Control the content you see on ConstructionCanada.net!
Learn More.