Zinc roof seam profiles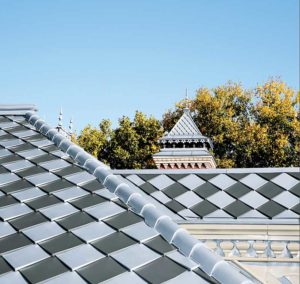 Roof slope and scale, local weather conditions, and warranty requirements influence the seam type selection. Double and single locks describe seam joints between roof panels upstanding 25 mm (1 in.) or 38 mm (1.5 in.) from the draining plane. A raised seam height can emphasize the roof as a design element and have a functional purpose in Canada's snowy climate. It is important to take caution as ice can deform and bend seams in the roof's valleys. To avert this, tapered panels assume an ideal seam direction into and out of a valley, and provide a distinctive visual pattern.
Vertical, standing seam profiles with mechanical lock connections are the most common zinc roofs. Flat seam profiles rely on gravity and at least a 4:12 slope to maintain weathertightness.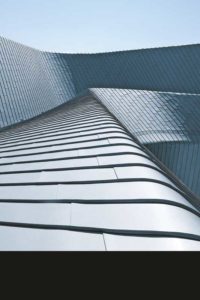 Further, low-profile zinc shingles and interlocking or overlapping tiles applied parallel to the eave present a familiar esthetic. They involve a technically easier installation method than vertical joints and are always applied as a 'dry-joint' roof system without solder or sealant. Tiles can be small. They provide good wind resistance, but cannot offer the same level of weather protection as a vertical seam.
For vertical seam profiles, vertical joints are attached to one vertical side joint, overlapped, and closed on the opposite side. The soft metal simplifies the task of hand-seaming or power-seaming zinc panels. Long panel lengths can make this design more vulnerable to oil-canning (panel waviness), panel disengagement, and wind uplift. Accommodating longer panels, taller seams, and those with added capillary breaks offer better water and wind resistance.
Folding the zinc, rather than relying on J-channels and sealant, to close the vertical seam panel end is a fail-safe detail. Requiring 'folded' zinc detailing eliminates the needs for cuts, rivets, sealant, or solder at the ridge termination or at the head flashing details.
Specifications outlining seam style, height, panel widths, and closures will reduce confusion and the potential for errors. A general specification recommendation for water-check folds at the top of the lap and staggering of traverse seams should also be prescribed.

Control the content you see on ConstructionCanada.net!
Learn More.