Affordable housing competition generates ideas for Vancouver
by nithya_caleb | April 2, 2018 2:46 pm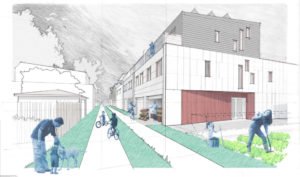 The Urbanarium[2], a nonprofit organization focused on urban planning, recently organized the Missing Middle[3] design competition to generate ideas on how to make housing affordable in Greater Vancouver. The contest sought models for mid-size density in residential areas where planning officials currently allow only single-family houses to be built on a lot.
An exhibition of the winning submissions is on at the Architectural Institute of British Columbia[4] (AIBC) Gallery, Vancouver, until April 12.
"Urbanarium ran this competition to have a meaningful discussion on how middle density inter-generational housing could contribute to affordable housing in the future," says Richard Henriquez, chair of the Urbanarium board. The jury included technical advisors and senior planning officials from Vancouver, Port Coquitlam, and Surrey.
The Missing Middle competition received 34 entries and 12 prizes were awarded. While most of the winning submissions came from local teams, there was one from Toronto—Workshop Architecture[5]—and one from Los Angeles (Goodale Architecture Planning[6])—both representing cities experiencing an affordability crisis.
Haeccity Studio Architecture[7], a Vancouver-based practice focusing on medium-scale housing, was awarded both the first prize and the planning prize. The firm's Micro-Op[8] concept hinges on zoning relaxations and incentives for resident-driven single-lot developments that follow a shared ownership model, creating widespread opportunities for incremental housing increases preserving the character and communities of existing neighbourhoods.
For a full list of winners, watch this video[9].
Endnotes:
[Image]: https://www.constructioncanada.net/wp-content/uploads/2018/04/1.-MicroOp-by-Haeccity-2.jpg
Urbanarium: https://urbanarium.org/
Missing Middle: http://themissingmiddle.ca/
Architectural Institute of British Columbia: http://aibc.ca/
Workshop Architecture: http://www.workshoparchitecture.ca/
Goodale Architecture Planning: https://www.goodalearch.com/
Haeccity Studio Architecture: http://www.haeccity.com/
Micro-Op: http://www.haeccity.com/#/missingmiddle/
video: https://www.youtube.com/watch?v=mJWYH9t8m6E&feature=youtu.be
Source URL: https://www.constructioncanada.net/affordable-housing-competition-generates-ideas-for-vancouver/
---