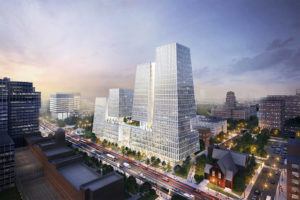 A $100-million gift to the University of Toronto (U of T), the largest donation in U of T's history, by two leading entrepreneurs will help construct the 69,677-m2 (750,000-sf) Schwartz Reisman Innovation Centre, the country's largest university-based innovation node.
Designed by Weiss/Manfredi, the centre in downtown Toronto will be a showcase for 'innovation architecture.' The centre's layout will feature vertical gardens, soaring atria, and collaborative spaces and will promote intellectual exchange and invite the public to take part in events and interact with scholars and innovators. U of T expects the building's engaging spaces to host thousands of researchers, investors, industry partners, and international visitors annually.
The centre will anchor U of T's cluster of artificial intelligence (AI) scientists and biomedical experts, its entrepreneurship network, and one of the country's largest concentration of student- and faculty-led startups.
The gift by Gerald Schwartz, CEO of Onex Corporation, and Heather Reisman, CEO of Indigo, will also support the launch of the newly conceived Schwartz Reisman Institute for Technology and Society, whose mission will be to explore and address the ethical and societal implications of AI and other emerging technologies.
"This extraordinary gift will spark Canadian innovation, boost our economy, and enable a deeper examination of how technology shapes our daily lives. It is a gift that reflects Gerry and Heather's entrepreneurial spirit and their deep concern for Canadians and global society," says U of T president Meric Gertler.
The centre will be constructed in two phases. The first phase will be a 23,226-m2 (250,000-sf), 12-storey tower, while the second will be a 46,452-m2 (500,000-sf), 20-storey tower.
The first tower will house, among other initiatives, the Vector Institute for Artificial Intelligence that focuses on machine learning.
The second tower will house laboratories for some of the world's top researchers and innovators in regenerative medicine, genetics, and precision medicine. Both towers will provide much-needed space for startups and fast-growing companies, as well as various components of U of T's innovation and entrepreneurship network.
"For the first time, the University of Toronto will have a central facility where young entrepreneurs and faculty can dream big," says Scott Mabury, vice-president of operations & real estate partnerships, U of T. "These flagship buildings will have purpose-built spaces for innovation and provide much-needed room for research-based scale-up companies, which will help to keep Canadian ideas and talent in Canada."
The university plans to begin construction on the first phase of the Schwartz Reisman Innovation Centre in fall 2019.