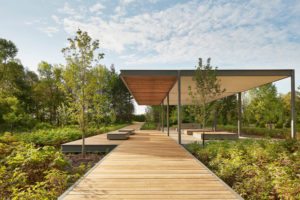 The Ordre des architectes du Québec (OAQ) has unveiled the winners of its awards of excellence and distinctions for 2022. Fourteen projects were recognized at a ceremony at Théâtre St-James in Montréal.
The 2022 Grand Prix d'excellence was awarded to the Daoust Lestage Lizotte Stecker for the firm's 'Expérience chute,' a redesigned pavilion and walkway at the foot of Montmorency Falls near Québec City. New facilities were needed to highlight the natural beauty of this emblematic site and to create a renewed experience for its 800,000 annual visitors. Jury members hailed the project's bold, unadorned, and judicious architectural statement, which perfectly frames a distinctive natural treasure. They also called 'Expérience chute' a compelling demonstration of how architects can successfully work on the margins of conventional practice, incorporating the disciplines of planning, design, and landscape architecture.
Meanwhile, the Prix du public (People's Choice award) was awarded to the final phase of the Centre hospitalier de l'Université de Montréal (CHUM) hospital complex project, comprising the Amphithéâtre Pierre-Péladeau, which also won the award in the Public Institutional Building category.
The winners of the 2022 Prix d'excellence en architecture were as follows:
Grand Prix d'excellence
• Expérience chute designed by Daoust Lestage Lizotte Stecker located in Capitale-Nationale Region
Cultural Building
• Biodôme Migration designed by KANVA Architecture in collaboration with NEUF architect(e)s located in Montréal
Public Institutional Building and Prix du public (People's Choice)
• Final phase of the CHUM hospital complex and Amphithéâtre Pierre-Péladeau designed by CannonDesign + NEUF architect(e)s and Jodoin Lamarre Pratte / Menkès Shooner Dagenais LeTourneux architectes in consortium located in Montréal
Commercial/Industrial Building
• Montauk Sofa Montréal designed by Cohlmeyer Architecture located in Montréal
Industrial Building (two winners)
• Water Intake, Canal de l'Aqueduc designed by Smith Vigeant Architectes located in Montréal
• Lafond Desjardins Dental Laboratory designed by ACDF Architecture located in Laval
Multi-Unit Residential Building/Complex
• Queen Alix designed by Blouin Tardif Architectes located in Montréal
Single-Family Residential Building, Urban Setting
• Maison Saint-Charles designed by La Shed Architecture located in Montréal
Single-Family Residential Building, Natural Setting
• Maison du Pommier designed by ACDF Architecture located in Saint-Donat-de-Montcalm
Interior Design (two winners)
• Bureaux LAUR designed by Alain Carle Architecte located in Montréal
• EG designed by Jean Verville, architecte located in Saint-Jérôme
Heritage Enhancement
• Windsor Station – Masonry Restoration and Window Replacement designed by DMA architects located in Montréal
Uncategorized Work
• Expérience chute designed by Daoust Lestage Lizotte Stecker located in Capitale-Nationale Region