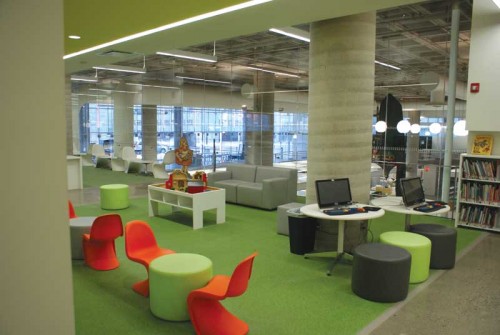 By Cara Murphy
Pressure is mounting on architects and designers to create practical and sustainable projects. Clients want beauty and ease of maintenance from long-lasting products, but within a limited budget. Thoughtful design and the use of proper materials, like recycled rubber flooring, can help ensure this model is achieved.
Whether it is a commercial, institutional, government, industrial, or residential building, the premise of design starts with the needs of the end-user. The basic elements of comfort must be considered.
These include:
ambient temperature;
efficient lighting;
noise control;
non-toxic environments; and
visually appealing spaces.
In creating successful indoor spaces, the focus must be on developing a superior acoustic environment that subdues the noises of equipment and shuffling feet while providing a comfortable surface that is slip-resistant—qualities of recycled rubber flooring.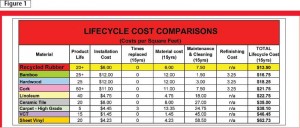 Rubber flooring 101
As a sustainable choice, recycled rubber flooring is derived from the post-consumer use of passenger tires. Simply put, tires that would have ended up in landfills are broken down into rubber crumbs that are reused to create vibrant, durable flooring for all building types.
Recycled rubber flooring first conjures images of a dirty, black floor that smells like a mechanic's garage. On the contrary, the tire is put through a rigorous process that cleans it, separates the rubber from the metal, grinds it, and then repeats the cleaning process. What remains is a clean and odourless rubber or powder. This can then be combined with coloured ethylene propylene diene monomer (EPDM) crumbs to create various patterns and colours used for many products, including recycled rubber surfaces for both indoor and outdoor uses. Applications can be found in outdoor products like playground mulch, playground tiles, and pavers for walkways, decks, and patios.
Recycled rubber flooring further fits the sustainability model by using post-consumer synthetic and natural materials that can be reclaimed and reground after the floor has outlived its usefulness. Tires are first constructed using natural rubber, styrene butadiene rubber (SBR), or a combination of both.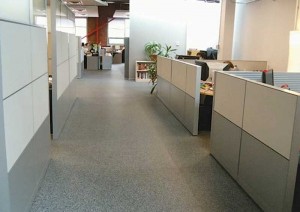 Natural rubber is derived from the para rubber tree (hevea brasiliensis)—native to South America (first discovered in Brazil), and since the 1800s has grown in abundance in rubber tree farm plantations in Asia. The tree is tapped (much like maple for its sap to make syrup), and the sap, or 'latex,' becomes rubber once hardened. The cultivated para tree has a lifespan of 32 years—seven to mature and then 25 of sap production.
SBR, on the other hand, is a synthetic substance invented in Germany in 1926 when the availability of natural rubber became restricted. This synthetic rubber combines of 25 per cent styrene—a compound drawn from the sap of the styrax tree—and 75 per cent butadiene, an industrial chemical created as a byproduct of petroleum refining.
Natural and synthetic rubber compete with each other for a multitude of products that include:
leak-proof seals for windows;
hoses;
belts;
gloves;
toy balloons;
erasers; and
rubber bands.
Rubber is also used as an adhesive in manufacturing, mostly in the paper and carpet industries. However, the primary product made with rubber is the tire.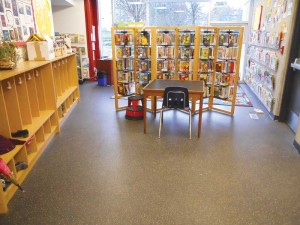 Some tires are manufactured using solely natural rubber, like in the aviation industry. This is because natural rubber is stronger than synthetic rubber. Other tires are made completely of SBR or a combination of natural and synthetic rubber. Synthetic rubber has a higher market share due to the availability of the products to make the SBR. However, they all have one thing in common—a limited lifespan. Once the tread on the tire wears down, it is discarded. The problem then becomes how to dispose of the tire.
A sustainable solution
In the past, the tire was often taken to the landfill where it was buried or burned. Burying the tire proved useless because over time, the ground would churn it up and spit it out. Burning a pile of tires in a landfill site became an ugly, environmental mess as the smoke billowed for months, creating massive air pollution and dangerous situations for landfill site workers. Simply amassing tires is an issue as they are difficult to store—75 per cent of the tire is void space, and piling them causes methane gases to build at the surface, damaging landfill liners.
Tires also collect rainwater and become breeding grounds for mosquitoes and vermin. Illegal dumping is common, creating an ugly eyesore and contamination of ravines, creeks, woods, and other natural habitats. While the damage caused by one discarded tire may seem minute, consider that approximately one tire is discarded per person, per year, in the world today. Recycling tires is a smart, sustainable solution.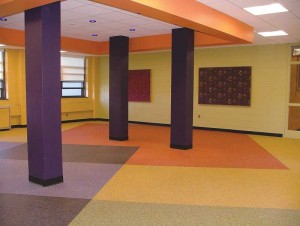 Tires cannot be recycled into new ones because they must meet certain criteria to be used on vehicles due to safety regulations. However, tires can be 'retread' using new rubber materials, which is commonly done with larger industrial tires. Due to the cost and availability of passenger tires, most people tend to replace their old tires and buy new.
Beyond indoor flooring, recycled rubber can be used for various purposes, including:
patio surfacing;
sidewalks;
gaskets for the auto industry;
turf for fields and equine;
rubberized asphalt;
industrial products;
artificial reefs;
landscaping tiles; and
playground tiles.
Using rubber in exterior surfacing increases safety because rubber is inherently slip-resistant, even when wet. When exterior pavers or playground tiles are used, water seeps into the ground. In the winter, the recycled rubber surface can be kept free of snow and ice just like any other paved area with the use of shovelling and salt. The cushioning effect of the rubber means should a fall occur, the impact-absorbing property would most likely minimize injury as compared to a hard surface. One should look for products that have met the strict testing procedures as specified by ASTM standards.

Control the content you see on ConstructionCanada.net!
Learn More.