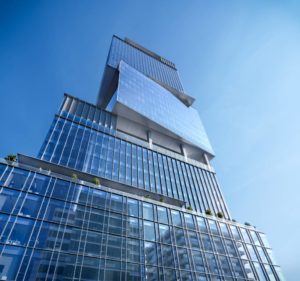 The Stack in Vancouver has become one of Canada's largest commercial high-rise office towers to get made-in-Canada Zero Carbon Building (ZCB) certification- Design standard, for its innovative sustainability features.
The 37-storey, 51,000-m2 (550,000 sf) commercial office tower in downtown Vancouver, which is nearing completion, has attained the certification by Canada Green Building Council (CAGBC).
The Stack has incorporated many innovative features minimizing carbon emissions, energy, and water usage as well as landfill waste. These include low carbon building systems, triple-pane glazing on all windows, rainwater management, and enhanced air tightness. Once built, on-site renewable energy will be achieved with a rooftop photovoltaic solar panel array.
Also targeting LEED v4 Platinum Core and Shell certification, the tower will deploy smart building technology to provide insights on energy management, optimize building performance and enable preventative maintenance. Designed to encourage active transportation options and promote wellness, The Stack will feature 250 bike parking stalls and club-quality fitness and change facilities for an exceptional customer experience.
The design architect for the project is James KM Cheng Architects Inc., with Adamson Associates Architects as the architect of record. Oxford Properties Group owns this property. One of the most notable design features for the tower is its vertical build in a "stacked-box" format.