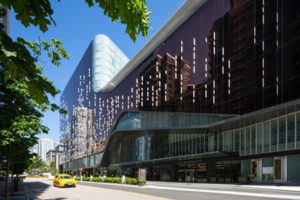 ACDF Architecture and Architecture49, in partnership with IBI Group, have constructed PARQ in Vancouver, an urban oasis featuring a 6689-m2 (72,000-sf) casino, two luxury hotels, eight restaurants, a fitness centre, spa, a 27,870-m2 (30,000-sf) rooftop park, and 5574 m2 (60,000 sf) of meeting and event space.
"PARQ was conceived as the missing link between the active environment of BC Place stadium and the downtown core's thriving entertainment district," said Maxime Frappier, the project's lead design architect. "We have put forward a design that not only fulfills that role, but also captures the essence of the city and its breathtaking natural surroundings."
According to the architecture team, the mixed-use complex in the Yaletown and Gastown neighbourhoods is a tribute to the city's diverse natural and cultural environments. The design elements add to the stadium's emblematic architecture, where the team created a seamless flow extending from BC Place and PARQ to the complex's adjoining neighbourhoods and landscapes. Defined by lines, shapes, curves, and slopes, PARQ's design  comprises multiple façades paying tribute to different elements of the complex's surroundings. Connections between PARQ's interior and exterior further extend the predominant theme. Clear glass and oversized windows connect patrons to the vibrant pedestrian flow and bike path traffic of surrounding city streets.
PARQ's multifunctional meeting and event space is comprised of boardrooms, flexible meeting spaces, and 13 ballrooms, including the 1450-m2 (15,604-sf) Parq Grand Ballroom. Built to Leadership in Energy and Environmental Design (LEED) Gold standards, PARQ takes in environmental considerations with its 2787-m2 (30,000-sf), sixth-level outdoor park. The urban retreat features more than 200 native pines and 15,000 local plants.
"The park adds a sustainable element to the project and is a model example of innovative use of green space," says Frappier. "When you combine that atmosphere with the surrounding scenic views, it transports nature into the heart of an urban environment."