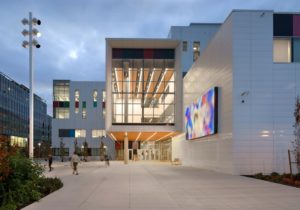 University of British Columbia (UBC) Museum of Anthropology (AES Engineering) and Emily Carr University of Arts and Design (WSP Lighting Studio) are the recipients of the Awards of Excellence in the 2018 Vision Awards.
The awards presented by the Illuminating Engineering Society of British Columbia (IESBC) honour outstanding BC lighting designers annually.
This year's award of merit recipients include:
"The lighting projects received this year address several challenges with the use of integrated control systems to reduce energy costs, harvest daylight, and reduce light pollution, and is just the beginning of what is to come in the lighting industry," said Robyn York, IESBC's chair.
The Metrotown Parkade Lighting Upgrade project received the BC Hydro Power Smart Lighting Redesign Award and UBC Museum of Anthropology received IESBC's Vision Award.
IESBC's awards are a preliminary stage, leading up to Illuminating Engineering Society's (IES's) national "Illumination Awards," which will be presented on August 9 at the IES Conference in Boston, Massachusetts.