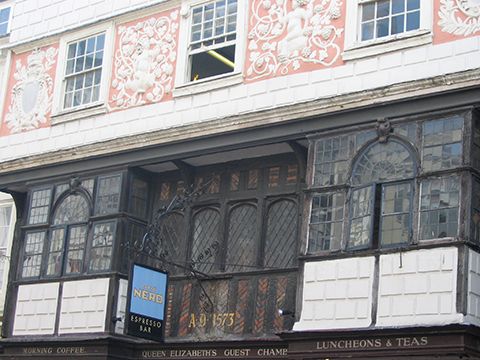 By Mark D. Hagel, PhD
Combining timber framing and masonry is not a new idea. The use of brick infill known as 'brick nogging' with timber post and beam framing has been employed for building houses throughout Europe since the late 12th century. One of the oldest standing buildings using this form of construction is the Cressing Wheat Barn in Essex England, constructed around 1235.
The more famous St. Thomas Tower directly above Traitor's Gate at the Tower of London used herringbone brick nogging with brick infill between timber post and beam framing. Several interior walls at the Tower of London also had this form of brick infill between timber framing (Figure 1).
With current construction in Canada, masonry and wood can still complement each other's strengths as they have for centuries in Europe. As wood framing becomes more widely used for low and mid-rise multi-family residential buildings, masonry walls can complement them by providing enhanced protection during fire events as masonry materials are inherently non-combustible.
Recent fires in wood-frame buildings have been mitigated, and lives were saved, when the progression of the fire was stopped by a concrete masonry unit (CMU) firewall. In multi-family residential buildings with lower-mobility occupants, wood-frame construction can have additional safety by providing points of refuge in the building with the use of concrete block stairwells, elevator shafts, and firewalls while still maintaining the lower embodied energy, speed, and ease of wood-frame construction.
Typically, the concrete masonry elements in these buildings are non-load-bearing; rather, the wood framing around the masonry elements serves this purpose. However, the concrete masonry elements can also be load-bearing and tie directly to the wood-framed structure.
Firewalls in attached homes and row town homes
The ease of construction and lower initial cost of wood-framed attached homes can have improved safety with the addition of CMU party walls.  A 150-mm (6-in.), partially grouted lightweight concrete block wall can provide a 1.5-hour fire rating while integrating well within the wood-frame architecture, as can be seen with the rowhouses depicted in Figure 2.
Although fire-rated gypsum walls provide adequate safety and stop fire at the party wall for the required time, the addition of the concrete block wall provides additional piece of mind because CMUs have much greater impact resistance and can withstand the pressure of a fire hose. The gypsum fire separations provide life safety, but the concrete can offer better compartmentalization of the fire and reduce water damage to the adjacent dwelling in the event of a fire.
Typically, the block wall is strapped on both sides with 2×4 wood framing and sheathed with gypsum. The load-bearing wood framing supports the floor joists, with the CMU wall acting only as a non-load-bearing firewall. For townhomes exceeding two storeys in height, it is often more practical to manage differential movement between the wood framing and the concrete block walls with this type of design.
Alternatively, if a two-storey attached home is using a concrete block fire separation or firewall, the shrinkage of the wood framing relative to the block wall can be expected to be about 19 mm (¾ in.), which can usually be accommodated within the system without complications. In this case, a wood ledger can be used to support floor joists instead of the framing. A wood ledger was used to support the first floor on two attached homes at the Habitat for Humanity's Aurora Place Project in St. Albert, Alta., where CMU fire separation walls replaced the original wood-stud and gypsum fire separation walls (Figures 3 through Figure 5).

Control the content you see on ConstructionCanada.net!
Learn More.