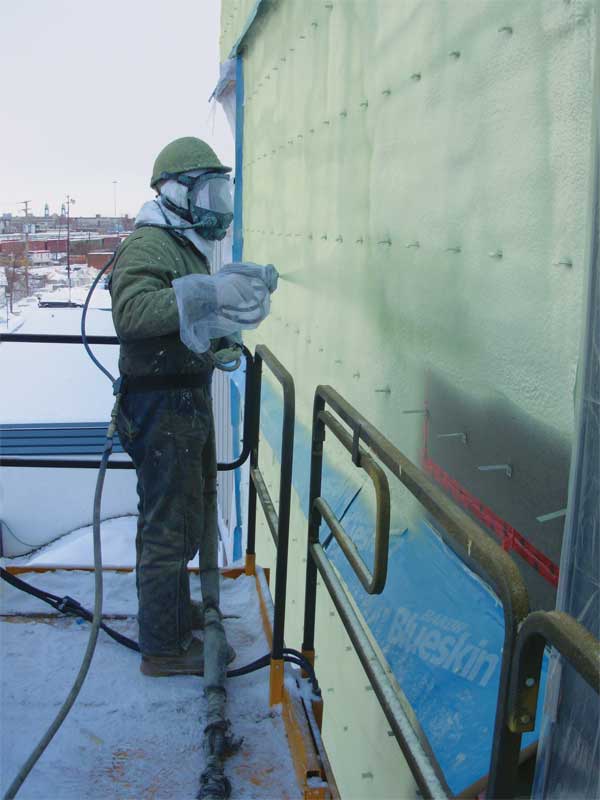 By Rick Duncan, PhD, PE, and Andrew Cole
Use of two-pound, medium-density closed-cell sprayed polyurethane foam (SPF) is growing rapidly in commercial structures. Utilization of the material has been fuelled in large part by its ability to seal the structure and, in doing so, tremendously enhance energy efficiency. Industry awareness of this performance has expanded the product's use as part of growing sustainability movements, including the push toward zero-net energy (ZNE) buildings in the built environment.
ZNE structures must not only be energy-efficient, but also generate energy to meet the requirements the building consume equal to, or less than, what it produces. Thus, exceptional insulation and air-sealing throughout the building envelope is paramount as a means for achieving the efficiency portion of the ZNE equation (renewable energy sources, such as solar power, drive the energy generation counterpart requirement).
Open-cell, low-density foams consist of a material with a density of approximately 0.5 to 1.4 pounds per cubic foot; they are ideal for insulation applications that fill interior walls and ceilings where there is no risk of water contact. Low-density sprayfoam is vapour-permeable, absorbing and releasing moisture vapour more freely than higher-density closed-cell sprayfoam counterparts.
Closed-cell, medium-density foams, on the other hand, consist of material approximately 1.5 to 2.3 pounds per cubic foot. A rigid foam option, the closed-cell structure contains an insulating gas entrapped inside the cells, providing a higher R-value per inch than open-cell sprayfoams. This category of sprayfoam is ideal for continuous insulation (ci) applications in commercial structures; it can be used in both interior and exterior applications where it can replace commonly utilized rigid extruded polystyrene (XPS) and polyisocyanurate (polyiso) foam boards. This article focuses on these medium-density, closed-cell sprayfoams.
Benefits of SPF explained
A building enclosure will either enhance or hinder the overall structure's energy efficiency. Depending on the materials and methods employed in construction, energy loss may occur at various points throughout the walls, ceiling, or roof via air leakage. Air sealing is necessary in ZNE and other energy-efficient buildings, and proper use of SPF works well to achieve it.
However, insulation effectiveness and performance is not measured by one factor alone, but rather by the assessment of combined considerations for air leakage, moisture control, health, safety, durability, comfort, and energy efficiency. When correctly specified and installed, sprayfoam can help score high marks in all categories.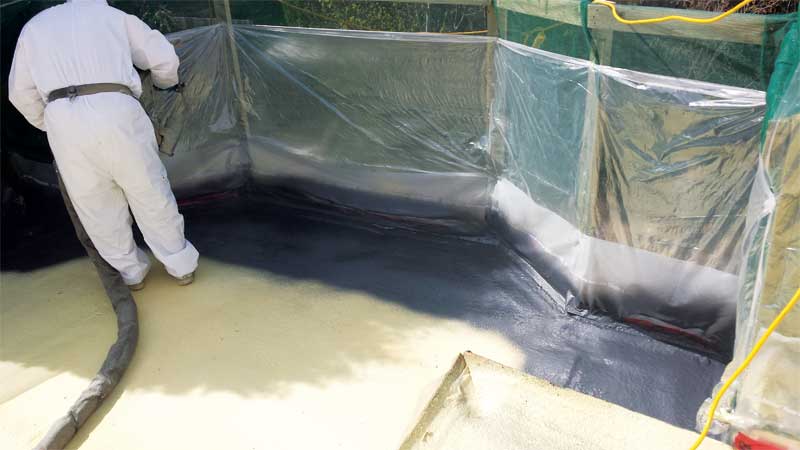 As a thermal insulator, the material forms in place and fully adheres to almost any surface, eliminating the cracks and gaps that allow escape of conditioned air. It may also be installed in a continuous layer, eliminating thermal bypasses typically found in cavity insulations. SPF boasts stellar thermal insulation performance, offering among the highest R-values in the industry. (This is in terms of long-term thermal resistance [LTTR] R-value as measured by CAN/ULC S770, Standard Test Method for Determination of Long-term Thermal Resistance of Closed-cell Thermal Insulating Foams. There are many published sources of R-values by material. SPF is comparable to sheet polyisocyanurate [polyiso] and expanded polystyrene [EPS]. For example, a comparison table can be found online on the Alaska Housing Finance Corporation [AHFC] site. Visit www.ahfc.us/iceimages/manuals/building_manual_ap_1.pdf.)
Acting as a continuous air, thermal, and moisture barrier, SPF offers the ability to insulate and seal the building enclosure via one product, eliminating the need for multiple product solutions to accomplish the same effect. Closed-cell SPF also provides structural enhancement, and qualifies as both a vapour retarder and secondary water barrier. (The Canadian Urethane Foam Contractors Association [CUFCA] has studies completed on the rack and sheer strength improvements based on the use of 2-lb closed-cell SPF as a structural component due to high compressive strength of the products. For example, see "Effect of Spray-applied Polyurethane Foam Insulation on the Racking Load of a Plywood-sheathed Wood Frame Wall," a 1991 report by A.V. Parasin and N.J. Nagy.) (The 2-lb closed-cell SPF is an accepted vapour barrier at 50 mm [2 in.] per Canadian Construction Materials Centre [CCMC] Evaluation Listing based on CAN/ULC S705.1 test requirements.)
These qualities protect the structure against mould and water damage, maintain indoor temperatures, and reduce energy costs. Once installed, the material's ability to fill cracks and gaps, and seal the structure, also improves indoor air quality (IAQ) by dramatically minimizing the infiltration of allergens and pollutants into the structure. Combined, these qualities create greater indoor comfort and dramatically reduce heating and cooling demands.
A lightweight, versatile, and durable insulation, SPF can be used across Canada's geographic regions and requires little maintenance post installation. However, the material's application must be done properly by a professional installer. With sprayfoam's increasing market share comes a growing need for proper installation education and professional certifications to ensure product effectiveness, installer safety, and industry best practices.

Control the content you see on ConstructionCanada.net!
Learn More.