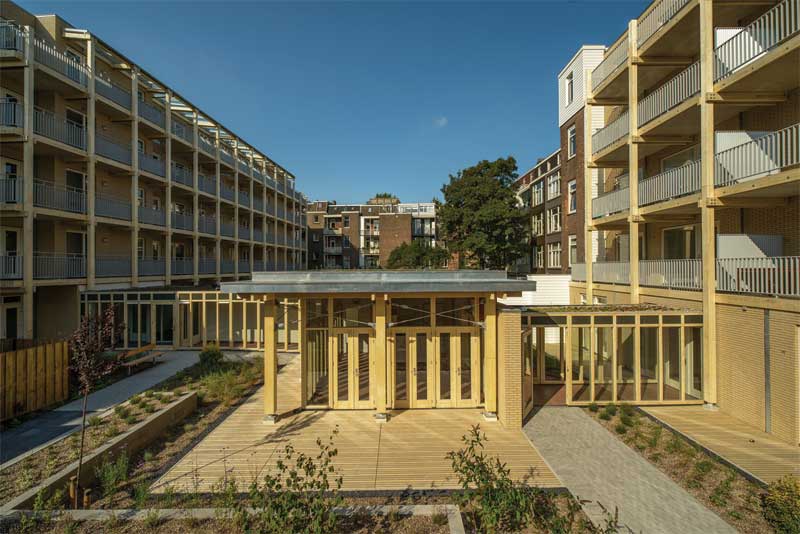 Increasing potential
Acetylated wood was the material of choice for the cladding, decking, and structural beams of a sustainable combined house and boathouse in the waterside village of Horning, England. The project showcased the extreme durability and structural properties of modified wood in a challenging marine environment. The curved, glulam screen designed for the project is an excellent example of the versatility of modified wood.
In Istanbul, Turkey, 356 pieces of acetylated wood were curved and invisibly bolted together to create an iconic egg-shaped sculpture that sits on water and doubles as the entrance to the Marmara Forum. Modified wood was selected for the colourful, lighted sculpture—called OVO—because it "ticked all the boxes," the sculptors said in a statement. "We needed a simple, natural, and durable material for our creation, and it suited our design well."
On this side of the Atlantic, acetylated wood was also used for lighting poles around a new-concept restaurant in Biltmore, Ariz. Featuring movable glass walls, the Hillstone Restaurant offers indoor and outdoor seating and views of the southwestern landscape. Designers selected a variety of natural, sustainable materials including stone, copper, and wood to tie the outdoor architecture to the indoor look. For the lighting poles, they specified acetylated wood because of its durability, longevity, and elegant appearance.
Conclusion
The growing potential for acetylated wood as a sustainable, structurally sound building material could become clearer as timber becomes a more widely accepted alternative to steel and concrete for tall buildings. As the search for ways to build greener, more energy-efficient buildings continues, architects and builders are pushing the traditional boundaries of building with wood.
An 18-storey student dormitory slated to open next year on the campus of the University of British Columbia (UBC) is the world's tallest timber tower, according to the institution. This will top the 14-storey Treet in Central Bergen, Norway, and the 33-m (109-ft)-high Cube in London, whose developers call it the tallest cross-laminated structure in Europe. Last year, Canadian architect Michael Green also unveiled a futuristic proposal to build a 35-storey wood skyscraper in Paris. The exterior of the building has been completed, but the interior is still under construction, set to be completed in May 2017. Acetylated wood is available throughout Canada.
The development of high-tech processes for creating ultra-strong, dimensionally stable timber is, in part, driving the trend toward the use of wood in big buildings. Architects, builders, and building owners are likewise sharpening their focus on the environment—and therefore on sustainable materials like acetylated wood for major building projects.
Steve Morrison is head of marketing for Accsys Technologies in North America, manufacturer of Accoya wood. An industry veteran, he has a healthy background in wood products at a variety of large manufacturers throughout North America for Universal Forest Products, International Paper, and Masonite. Morrison can be reached at steve.morrison@accsysplc.com.

Control the content you see on ConstructionCanada.net!
Learn More.