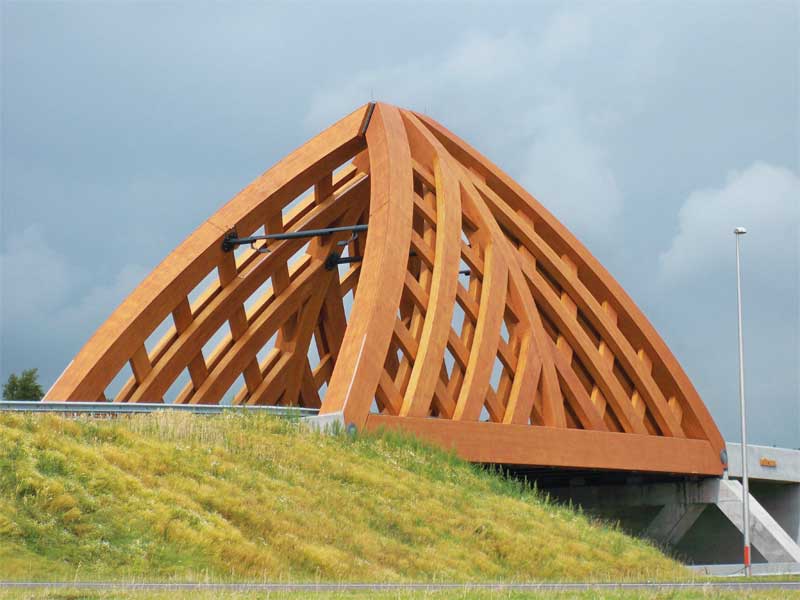 Structural potential and examples of successful exterior usage
The dimensional stability of acetylated wood makes it a candidate to be used outdoors on fully exposed bridge structures and ground beams, even in moist climates and near water. Those are applications where conventional timber—including durable tropical hardwoods, which fall short because of their limited supply and glue-averse surfaces—has traditionally been passed over in favour of moisture-resistant concrete and steel.
Still, most acetylated wood is specified for non-structural applications, like decking, cladding, windows, external joinery, and even outdoor furniture. However, some architects are choosing acetylated wood when the project calls for structural wood on an exterior.
Building bridges
The first use of structurally sound acetylated wood on a large-scale, high-moisture project involved the building of two bridges in the northern Dutch city of Sneek, in 2008 and 2010.
These open-truss traffic bridges were crafted from 1200 m³ (42,3380 cf) of Forest Stewardship Council (FSC)-certified, acetylated radiata pine from New Zealand. In part, the wood was chosen for the 16-m (52.5-ft)-tall bridges because of its Class 1 durability, as every bridge built in the Netherlands must have an 80-year lifespan. The architects there favoured a natural construction material over steel, which has an average lifespan of just 55 years. There is no defined science on how long acetylated wood will last, but third-party testing institutes show acetylated wood window frames can have an expected service life of between 77 and 90 years, with the range representing exposure conditions from severe to mild.
Acetylated wood is more expensive than most timber or modified wood, but is less costly than tropical hardwoods such as ipe and mahogany. This is due in part to its durability and long lifespan. The cost to add coatings is lower, and coatings last longer when applied, compared to most other wood.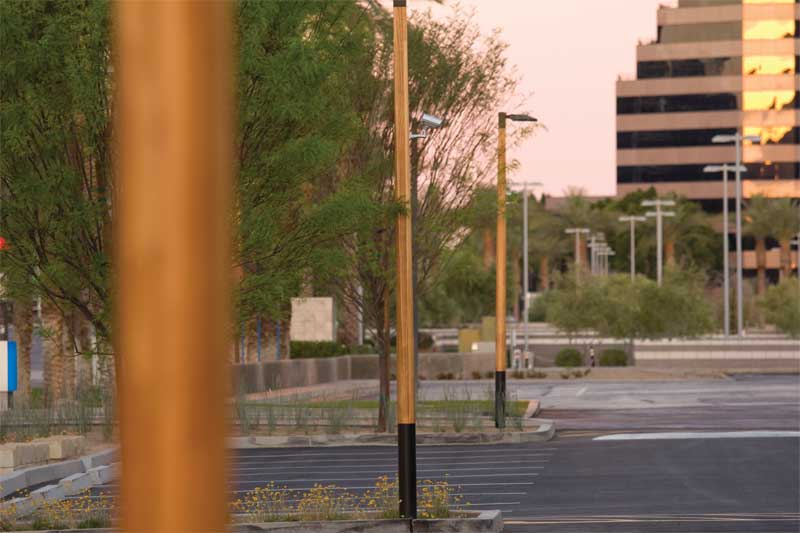 Specifying conventional lumber on an exposed and unprotected open roof was out of the question. The complex geometric pattern of the bridges' beams also meant their assembly required gluing. These factors allowed acetylated wood to trump even the naturally durable, fungus-resistant tropical hardwoods, which are difficult to glue and have a lifespan of just 45 years. The material could also support road traffic weighing up to 65 metric tonnes.
Modern meets historic
At a residential care complex in Amsterdam, structural acetylated wood was chosen for the columns on a large veranda—but not only because of its strength.
The FagelCats Apartments compound consists of 22 sustainable apartments in a pair of five-storey buildings, along with four large community homes, near the historic canal ring in the centre of Amsterdam. Surrounding the complex are a number of aging 19th-century homes, whose architectural character was to be mirrored by the façades of the new buildings. To accomplish this, a variety of materials were required, including brick, freestone, tin,
and wood.
A communal courtyard between the pair of buildings features glazed corridors, a garden pavilion, and a veranda with wood columns. Designers selected acetylated wood for those columns because of its structural and sustainable qualities—the manufacturer guaranteed it against rot and decay for 50 years in exterior use—and its appearance. Using modified wood for the columns, the decking of the veranda, and the window frames along the corridors softened the look of the façades in the courtyard.

Control the content you see on ConstructionCanada.net!
Learn More.