By Tim Preager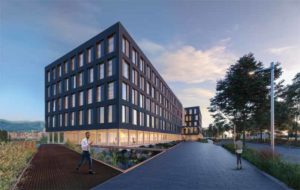 Second only to stone, wood use in construction dates back thousands of years. In fact, the first timber home discovered in Britain was built more than 10,000 years ago. In Canada, there are many all-wood buildings that are over 100 years old. Nevertheless, changes to building codes, fear of fire risks, and the introduction of steel and concrete have caused a decline in wood building construction.
However, it appears old is new again. Wood has made a big comeback and new changes being introduced to the National Building Code (NBC) in 2020 might result in the rise of tall wood buildings.
Starting next year, NBC will allow the construction of tall wood buildings up to 12 storeys from the current limit of six. The impact is already seen in British Columbia, where the province obtained permission from the National Research Council (NRC) to adopt the rules right away.
With the country's vast forest resources, wood is an obvious material for construction, and it has less impact on the environment compared to manufacturing steel or extracting and crushing rock from quarries to make concrete. Being a natural resource, it is readily available, renewable, environmentally sustainable, biodegradable, economically feasible, and carries the lowest carbon footprint of any comparable building material.
Wood stores carbon dioxide (CO2), and some reports predict replacing steel with mass timber could reduce CO2 emissions by 15 to 20 per cent. For example, the wood used in the 18-storey University of British Columbia (UBC) Brock Commons residence tower will store over 1750 metric tonnes of CO2-equivalent greenhouse gases (GHGs), which is similar to taking 511 cars off the road for a year.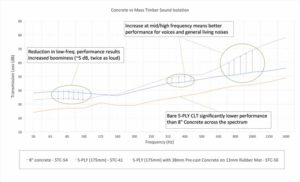 The biggest hindrance to wood construction in the past has been the fear tall wooden structures are a fire hazard. However, the wood industry has evolved, and mass timber is actually fire-resistant. Mass timber buildings can be defined as one in which the primary loadbearing structure is made of either solid or engineered wood. This can include glue-laminated (glulam) timber, cross-laminated timber (CLT), and nail-laminated timber (NLT). This new technology means wood buildings can move into a new era.
Notable examples
In recent years, several new and innovative wood buildings have been developed in the United Kingdom, Australia, and North America. These structures demonstrate the true potential of mass timber construction. Canadian construction is being led mainly by builders of educational facilities, but mass timber is also explored for a mix of projects.
The Wood Innovation and Design Centre (WIDC) in Prince George, B.C., initially held the title of the world's tallest, modern, all-timber structure but was soon surpassed by the UBC Brock Commons Building, which was an exception to the building codes' six-storey limit. Several others in design include the Arbour at George Brown College in Toronto—the 12-storey building will be Ontario's first tall wood institutional structure.
Sidewalk Labs is looking at constructing a collection of mass timber buildings with the tallest one topping out at 30 storeys in Toronto. If successful, it will be the first neighbourhood constructed entirely from mass timber. On the West Coast, there are intentions to seek similar-sized tall mass timber buildings up to 40 storeys.
Even without the changes to NBC, there is a plethora of advantages to mass timber construction. However, the use of mass timber in multifamily and commercial buildings presents unique acoustic challenges.

Control the content you see on ConstructionCanada.net!
Learn More.