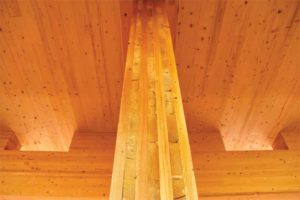 Increase mass wherever possible
Due to its light weight, using mass timber exclusively will not be great at stopping noise from transferring through it. A single 152-mm (6-in.) panel of concrete provides enough mass to achieve typical residential requirements, but a 152-mm piece of CLT does not. A hybrid solution combines the mass timber with other materials that are better at stopping noise (e.g. concrete). Many designs incorporate the use of thin, 50 to 76-mm (2 to 3-in.) thick concrete layers or fibrous cement panels on top of the wood base assembly. Another option incorporates a dropped ceiling below the wood structure. For this, care would have to be taken to allow accessible areas for services and/or penetrations for HVAC, sprinklers, and electrical systems. Either option will impact floor-to-floor heights, so it is critical to look at these sound mitigation issues at the planning stages (Figure 2).
Minimize flanking
Just like water, sound can also travel through tiny cracks, holes in walls, pipe penetrations, or any other path other than the main demising partition. Any small hole or path without enough elements to stop a sound can help carry it. In wood buildings, a lot of flanking paths can exist where sound travels through assemblies other than the wall itself, such as the floor, joists, cavities, pipe penetrations, junctions between floors and walls, and ceiling cavities. This means occupants are more susceptible to noise issues in poorly designed units.
The main factor affecting flanking paths is the floor system itself and the materials used and sequenced onsite. For horizontal sound transmission, the main driving factor in achieving performance across the same floor plate will be the flanking paths. For example, if the base system is CLT, and the target is STC 50 or higher, then wall assemblies need to be placed down directly to the base of the CLT floor slab before concrete pour or require the installation of an acoustical under mat or additional layers. This is particularly important once the new ASTC requirements come into effect. The same applies for commercial spaces with performance mandates between rooms. Even if the wall has a rating of STC 60, performance will suffer if the flanking path only achieves STC 45. For raised floor systems, similar to standard office floor plates with under-floor air distribution systems, walls needing to achieve an STC rating of 50 should be installed first and placed down to the base mass timber structural slab.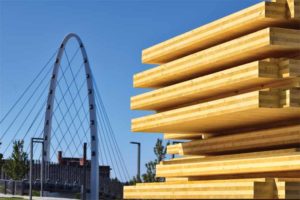 For vertical sound transfer between floors, a common design consideration is to raise the flooring by placing underlays and mats between the mass timber panel and concrete. Another option is to hang ceilings below the base wood assembly to achieve medium performance between floors. Combining these approaches can achieve even higher performance where it might be necessary as more mass timber spaces are used. Regardless of the option chosen, it is imperative these requirements are outlined at the outset of the project design. While floor raises and drop ceilings can be incorporated later, buildings teams risk losing height, adding weight, and going over budget if these decisions are made later in the project schedule.
Key considerations
When considering a mass timber construction, it is critical for a developer to have a realistic sense of goals. Do they want to use this building to showcase the possibilities of building strategies for the future? Can they attract high valued tenants and residents to spaces where the cost implications are higher in comparison to traditional buildings? Are they willing to pay more money to invest in a more sustainable project? The higher capital spent on tall mass timber structures may be offset by the reduced project timeline as they are quicker to construct than concrete buildings. Mass timber structures are often built as components offsite and assembled at the project site, thereby contributing to faster construction timelines.
With a greater focus on environmental sustainability, the many changes to building codes, and technological advances in wood construction, it is not far-fetched to assume mass timber construction may become a standard in the building industry over the next five to seven years. British Columbia's Wood First Act (WFA) has mandated any building in the province has to first consider mass timber construction and show why it cannot work prior to choosing concrete or steel. This may eventually become the expectation across the country.
It may take some time to fully establish deep roots within the construction industry because the supply chain and logistics for mass timber product delivery is still in its infancy. Currently, it is still more cost-effective to purchase products from outside of Canada but this is changing, thanks to recent government grants and plans by large construction companies to build and operate mass timber plants locally. As building codes evolve and developers understand the many benefits of mass timber construction, what is now considered a design trend could soon become the standard.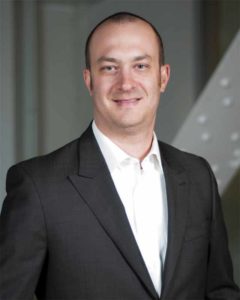 Tim Preager is a principal with Aercoustics Engineering with a focus on acoustical design. Preager also leads wood building design projects for residential, commercial, and institutional sectors. He can be reached at timp@aercoustics.com.

Control the content you see on ConstructionCanada.net!
Learn More.