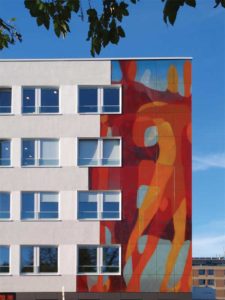 The importance of proper installation
When critical building functions depend on effective performance of a single material or assembly (a sealant joint, for example), performance is directly affected by failure to install, install correctly, or maintain that assembly. The redundancy of moisture control combined with the passive nature of convective drying make ventilated rainscreen wall systems effective. Most of the water is stopped by the primary rainscreen. Water entering the cavity between the exterior insulation and rainscreen exit by evaporation within the convective loop. Finally, an air and moisture barrier behind exterior insulation provides an additional line of defence.
There is less reliance on sealants in ventilated rainscreen walls. Where sealants are used, they are often shielded from ultraviolet (UV) exposure. This layered, redundant approach to air, moisture, and thermal management has shown itself to be highly effective.
Introduction of insulation into the wall cavity adds a further consideration regarding air gap size. Air gaps within a wall system open potential pathways for fire propagation that must be carefully evaluated. This is the case whether insulation within the gap is combustible or noncombustible. Given the complexity of flame propagation, large-scale system testing performed per the National Fire Protection Association (NFPA) 285, Standard Fire Test Method for Evaluation of Fire Propagation Characteristics of Exterior Wall Assemblies Containing Combustible Components, or the Underwriters Laboratories of Canada (CAN/ULC) S134, Standard Method of Fire Test of Exterior Wall Assemblies, is needed to establish fire safety. Buildings employing wall systems tested per NFPA 285 have demonstrated good performance in real-world fire situations (consult Jess Beitel's paper on NFPA 285 and Engineering Judgements, presented at XXIII Annual Westford Symposium on Building Science). However, both NFPA 285 and CAN/ULC S134 are system tests. Any changes in the wall system, including changes in the size of the air gap, affect fire performance and require expert consideration (consult Jess Beitel's paper on NFPA 285 and Engineering Judgements, presented at XXIII Annual Westford Symposium on Building Science).
In today's construction environment, all components of a wall system must work in concert to manage air, moisture, thermal, mechanical, and fire performance. The system must also have the appropriate esthetic appeal and perform at a cost that a given project can bear. Further, architects are legally required to produce designs meeting building code requirements, and the general contractor is mandated to construct code-compliant buildings. This can be a daunting prospect for both the architect and the general contractor given the array of fire, moisture-resistance, and mechanical requirements placed on exterior wall systems. Fortunately, there is an immediately available solution to all of these challenges.
Building product manufacturers are refining systems' approaches to exterior wall design. Specific systems—everything from ventilated rainscreens, stucco, EIFS, cavity walls and prefabricated walls to masonry walls—undergo painstaking engineering review and comprehensive performance testing by manufacturers, who create extensive detail sets, specifications, and installation instructions that, if followed, result in wall systems with code compliance that is confirmed by third-party documentation.
Such a system is liberating for everyone involved. Architects can focus on attaining desired esthetic, performance, and cost objectives. General contractors can reduce risk by employing proven installation practices. Applicators can typically access focused technical expertise from the building product manufacturer if installation questions arise.
Integration as a driver
Ultimately, the multiple pressures and evolving mandates in today's construction environment require a change in thinking, one that aims at taking a systemic approach to the external wall.
Designing and constructing buildings with tested, code-compliant, complete exterior wall systems forms a basis for consistent construction of buildings with improved fire safety, durability, longevity, esthetic appeal, and cost effectiveness.
Put another way, it is not just about protection from the elements.
As mentioned, the term rainscreen implies a system of building. While at one time that system would have encompassed moisture control alone, the complexity of exterior wall systems now requires a more integrated approach.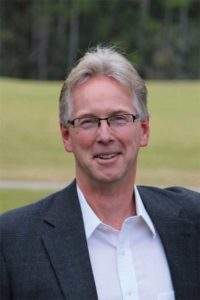 Richard Martens is director of business development at Sto Corp., focused on rainscreen wall systems and prefabricated construction technologies. He holds a bachelor's degree in chemistry from the University of Waterloo and an MBA from the University of Toronto. He can be reached at rmartens@stocorp.com.

Control the content you see on ConstructionCanada.net!
Learn More.