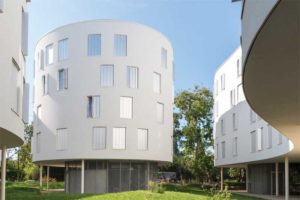 By Richard Martens
When architects turn their attention to the exterior wall of any building they are designing, the most important consideration is the cladding. Will it effectively protect the building—and those inside the structure—from the elements of wind, rain, snow, cold, and heat? Will it provide a reliable moisture barrier? Additionally, will it do all of this consistently over the life of the structure?
Rainscreens as external cladding have been around for decades, but advancements in technology have made them increasingly popular. This is due to two key factors—their ability to deliver optimal performance metrics, and the flexibility they provide when it comes to design options.
From the beginning
How do you define a rainscreen? What are its components and what can it deliver when it is specified for the exterior wall of a building?
According to Wikipedia, a rainscreen is "an exterior wall detail where the siding (wall cladding) stands off from the moisture-resistant surface of an air barrier applied to the sheathing (sheeting) to create a capillary break and to allow drainage and evaporation. The rainscreen is the siding itself, but the term rainscreen implies a system of building."
For additional context, consider Madeleine Rousseau's account of a controversy over the difference between a drained cavity wall and a rainscreen wall back in 1990 (read the Construction Canada article, "Facts and Fictions of Rain Screen Walls," by Madeleine Z. Rousseau, MRAIC).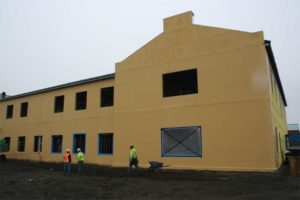 "Now a heated debate on terminology usually starts!" she noted. "Usually, the debate cools off when the expression 'pressure-equalized' is used."
Rousseau went on to illustrate a compartmented wall with a 115-mm (4.5-in.) cast concrete air barrier behind each compartment, a practice that is seldom seen in 21st-century construction.
Architects rarely choose cast concrete as an air barrier today. Moreover, pressure equalization has lost favour as a means of controlling bulk water intrusion. At the same time, many historical definitions of rainscreen walls have stood the test of time.
G.K. Garden's influential 1963 article remains relevant, providing guidance to modern exterior wall design (G. K. Garden's influential article, "Rain Penetration and its Control," was published in the Canadian Building Digest).
"Rain penetration results from a combination of water on a wall, openings that permit its passage and forces to drive or draw it inward," noted Garden. "It can be prevented by eliminating any one of these three conditions," (G. K. Garden's influential article, "Rain Penetration and its Control," was published in the Canadian Building Digest).
Garden further defined six forces that drive or draw liquid water into a wall system. They are:
Kinetic energy (driving rain);
Capillarity (water moving by capillary attraction);
Gravity;
Wind pressure;
Pressure differences; and
Pressure differences + capillarity.
Garden regarded pressure equalization as a means of controlling the forces driving or drawing liquid water. In his analysis, both water on the wall and openings permitting moisture's passage would always be present.
The construction industry has witnessed plenty of change since Garden and Rousseau conducted their research. Today's construction environment is much more complex. Architects, specifiers, and designers have a wider variety of materials to source, and cost pressures on projects of all sizes have intensified. Add in the substantial advances in building enclosure design, and key stakeholders are dealing with an ever-evolving paradigm.

Control the content you see on ConstructionCanada.net!
Learn More.