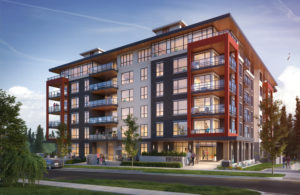 Construction is complete on the much-anticipated Virtuoso project, a six-storey residential development located at The University of British Columbia's (UBC's) Wesbrook Village. Owned by Adera Development Corporation, this building is one of the first market condominium projects in North America constructed using mass timber.
The building's construction method uses a mass timber floor system, essentially substituting a slab of concrete with a slab of wood, thereby providing a stronger and more durable support system. Cross-laminated timber (CLT) was employed for the floor.
"When Adera told us they were planning to use CLT we got quite excited to see that next step of innovation" says Paul Young, director of planning and design at UBC Properties Trust.
The project has also achieved gold certification under the UBC-specific green building rating system, the Residential Environmental Assessment Program (REAP), a mandatory requirement for all residential construction on campus. REAP is a comprehensive rating system that ensures lower consumption of water, energy and resources, and overall environmental impact on the community.
For more information on the project, click here.