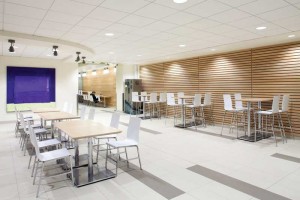 The renowned architect Christopher Alexander, father of the Pattern Language movement in computer science, has designed and built more than 200 buildings on five continents. (See Christopher Alexander's 1977 work, A Pattern Language: Towns, Buildings, Construction). Many of these lay the groundwork of a new form of architecture, in which detailed analysis of human behaviour patterns is crucial in helping architects structure the built environment:
No pattern is an isolated entity. Each pattern can exist in the world, only to the extent that is supported by other patterns: the larger patterns in which it is embedded, the patterns of the same size that surround it, and the smaller patterns which are embedded in it.
This leads to questions such as, are classrooms also theatres, or are they cafés for discourse and exchange? Are laboratories marketplaces for ideas, gardens of discovery, libraries of knowledge, or workshops of invention? If classrooms are 'cafés,' for example, traditional lecture seating needs to be rethought and redesigned to allow focused group conversations and interactions. Similarly, if laboratories are 'marketplaces,' this also encourages the concept of synergy.
The projects at UBCO incorporate interdisciplinary open-concept labs, where researchers of similar types can share the facilities and some of the equipment. One example is a joint laboratory in the Arts & Sciences building where two researchers share a cleanup and refrigeration space, but their work lab is separate. In other areas, two researchers share the same laboratory.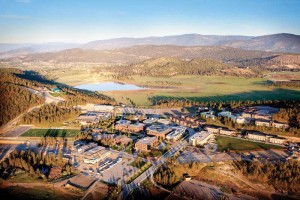 While the two new buildings at UBCO are clearly a departure from the architectural language of the original campus, they play homage to the existing context with material and formal cues, such as incorporation of bold brick panels at the base. Students will intuitively feel this connection and integration with context and landscape.
Dynamic place-making through sustainability
A sustainable environment is required to support life, without which connection to each other and places cannot occur. Sustainable design is therefore a significant component of an ability to create meaningful places. Bio-mimicry teaches design professionals the importance of not only learning 'about' nature, but also learning 'from' nature.
For example, termites are social insects that live in colonies of millions; they collaborate on a massive scale to achieve what no single insect could. Their recycling of wood and other plant material has an important ecological impact, and their presence has not altered the balance of nature. Termite mounds have tunnels and air conduits that exchange gases, regulate humidity, and maintain interior temperature within a very narrow band, varying only 1 C (1.8 F) from a mean temperature of 31 C (87.8 F). This is despite external temperature swings of up to 40 C (72 F).
The projects at UBCO illustrate this principle of creating sustainable buildings through collaborative design processes between professionals, owners, and users. Other approaches, such as recycling materials, employing natural air flows, and so on, allow architecture in harmony with natural principles.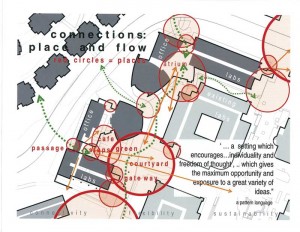 Nature is a web of these types of symbiotic relationships. This approach to design is required to enable living spaces and experiences to connect to places and people. The relationship between students and their environment is a key component of learning:
Sustainable design does not merely signify the integration of green principles, but rather how the learning environment—social and physical—can contribute to the development of the learner. (See Peter C. Lippman's "Can the Physical Environment Have an Impact on the Learning Environment?" from JCJ Architecture [New York]).
Conclusion
The UBCO Charles E. Fipke Centre for Innovative Research, and the adjacent Arts & Sciences Building are part of the evolving story of UBCO. The provision of both casual and formal spaces, and connections to the campus context, create a sustainable design in not only the ecological sense, but the social one as well.
These two buildings together foster a culture of connectivity and learning at UBC's Okanagan campus, creating a locally responsive, but globally conscious, community that embodies the university's academic plan in its response to place. This five-Green-Globe precinct is designed to grow into the campus of tomorrow at UBCO, where academic success and environmental sustainability are in synergy as dual objectives.
Michael McDonald is the principal and director of design for Kasian Architecture Interior Design and Planning. A graduate of the University of British Columbia (UBC) School of Architecture, where he was awarded the Alpha Rho Chi medal for leadership, McDonald was the Kasian project director for both the UBCO Fipke Centre and the Arts & Sciences Building. He can be contacted via e-mail at michael.mcdonald@kasian.com.
Honor Morris is the media relations manager for Kasian. A published international author of books and academic papers, she has more than 20 years of journalistic experience in print and broadcast media. Morris can be reached at honor.morris@kasian.com.
Guy Taylor is an associate with Kasian and was the project manager for key phases during the construction of both the Arts & Sciences Building and the Fipke Centre. A graduate of the University of the Cape Town School of Architecture, his international experience encompasses small-scale architectural projects to large scale urban designs in a way that draws on the synergy between building and context. Taylor can be contacted at guy.taylor@kasian.com.

Control the content you see on ConstructionCanada.net!
Learn More.