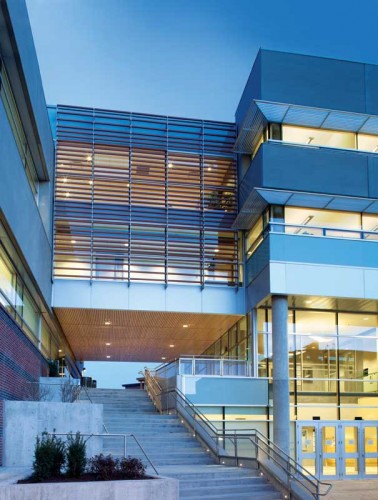 By Michael McDonald, Honor Morris, and Guy Taylor
Laboratories and education facilities are among the most energy-intensive building types. On average, a lab consumes five to 10 times more energy per square foot than an average office building. For example, a laboratory fume hood, programmed to run on a continuous basis, will use three to four times more energy than an average house.
Labs also have myriad health and safety requirements that have a significant impact on energy use, adding complexity to the benchmarking process. Thus, creating an energy-efficient building that houses one or more labs is a significant challenge for any design team.
The Okanagan campus of the University of British Columbia (UBCO) is home to two multi-purpose academic and research facilities that take the understanding of environmental design to a new level. Designed by Kasian Architecture Interior Design and Planning Ltd. (in collaboration with UBC Properties Trust), the UBCO Charles E. Fipke Centre for Innovative Research and adjacent Arts & Sciences Building have both been awarded five Green Globes under the Building Owners and Managers Association (BOMA) program.
In November 2008, the three-storey 6579-m2 (70,816-sf) Fipke Centre became the first academic building to be opened as part of UBCO's campus master plan, and the first building in Canada to achieve the full five Green Globes. It was also the first facility on the campus to use UBCO's geo-exchange groundwater energy system for heating and cooling. Opening two years later in September 2010, the four-storey 7950-m2 (85,573-sf) Arts & Sciences Building has also been awarded five Globes, making the two projects the world's first campus facilities to achieve this credential. In terms of the Green Globes Eco-Rating Program, they are the greenest laboratory buildings in North America. (The authors would like to thank staff at the Okanagan campus of the University of British Columbia (UBCO) and Cobalt Engineering LLP, for their invaluable assistance in the preparation of this study).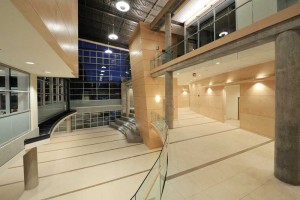 Green design in laboratory environments
Located in Kelowna, B.C., UBCO serves the post-secondary education needs of more than 7500 undergraduate and graduate students, and aims to foster a locally responsive, but globally conscious, community. Energy-efficient design is at the core of the university's planning initiatives, promoting sustainable stewardship
of a campus that has tripled in size over the last seven years.
Both the Fipke Centre and the Arts & Sciences Building contain offices, classrooms, student commons, and labs to support various innovative research projects. The Arts & Sciences Building also includes a theatre and an animal care facility.
Due to the issues surrounding energy efficiency, collaboration
was critical for this project, explains Albert Bicol—a partner with Cobalt, the mechanical engineers for both buildings.
"The design team worked closely with major stakeholders throughout the lifecycle of these projects to evaluate their overall efficiency, flexibility, and long-term environmental impact, and to ensure a high level of comfort and indoor air quality [IAQ]," he says.
Recent analysis of energy consumption data from the Fipke Centre indicates the lab is operating at 350 kWh/m2 annually (for all loads, including lighting and plug loads). A typical building in North America operates at about 400 kWh/m2 and traditional laboratories at 700 to 800 kWh/m2. Generally, systems designed on organic principles have been found to adjust responsively over time. In the animal kingdom, organisms face a succession of environmental challenges and ongoing adaption helps them survive and function in their ecological niche. Likewise, green buildings cannot achieve their objectives unless their performance over the facility's entire lifecycle is anticipated.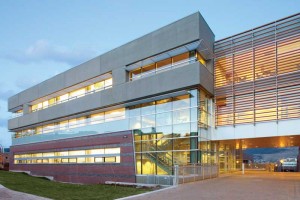 Building commissioning, operations, maintenance, staff training, and user familiarity are always key considerations in the mind of the design team. For this reason, sustainably designed laboratories require a period of adjustment—between one and two years, post-occupancy—to permit these complex buildings to achieve optimal environmental performance levels.
The adoption of a collaborative method to design using building information modelling (BIM) emphasizes a 'whole building' approach, where the entire facility is viewed holistically as an interdependent system, rather than an accumulation of separate components. An effective integrated approach permits owners, architects, and engineers to work together from the beginning to implement any necessary changes to design and process. This ensures all building systems work in harmony, resulting in improved energy efficiency, sustainability, economy of construction, and enhanced occupant health and comfort. For example, consideration of natural daylighting principles, building orientation, glazing selection, and electrical fixture design allows all these elements to work together to provide optimal lighting levels for occupant comfort and task performance, regardless of the time or season.
The Green Globes rating system for energy efficiency highlights the significant impact of producing an environmentally responsive design for both buildings. The Fipke Centre is 46 per cent more energy-efficient than a standard reference building that meets Model National Energy Code for Buildings (MNECB) requirements. (Op. cit. "Green Globes Design: UBC-O Fipke Multi-purpose Academic & Research Facility.")
Incorporating a centrally located wind tower in the design for the Arts & Sciences Building effectively maximizes opportunities for natural ventilation, ensuring the facility is 43 per cent more efficient than a MNECB reference building. (See the February 2011 report, "Green Globes Design: UBC-O Arts & Sciences Expansion," by ECD Energy and Environment Ltd). This positions both the Fipke Centre and the Arts & Sciences Building as benchmarks for sustainable design for university campuses worldwide.

Control the content you see on ConstructionCanada.net!
Learn More.