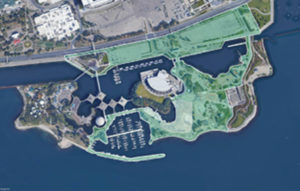 LANDinc and Martha Schwartz Partners (MSP) have been selected to design and construct the public realm of Toronto's Ontario Place.
The projected area will accommodate a range of activities across the site for play, rest, and exploration through a landscape design with art, culture, and ecologically based strategies.
"LANDinc and MSP have a strong partnership and a proven track record of success," said Martha Schwartz, founding partner of MSP. "We are thrilled to be collaborating on this exciting project to revitalize this iconic landmark in a sustainable way."
The project is a publicly accessible space which can be explored outside of programmed events and attractions. It will be designed to reinforce continuous public connectivity throughout the site and beyond, with 24-7 access to the 30 km (19 mi) Martin Goodman Trail, Exhibition Place, and the City of Toronto.
"Ontario Place holds a unique opportunity to create a global destination, and we look forward to leading this exciting legacy project with a multidisciplinary award-winning team of experts," said Patrick Morello, senior principal of LANDinc.