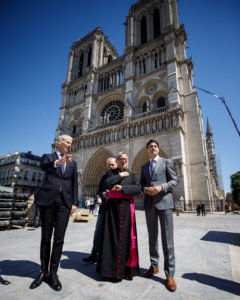 Prime Minister Justin Trudeau has offered to provide Canadian steel and lumber for the restoration of Paris's iconic Notre Dame cathedral which was destroyed by a massive fire last month.
During a visit to Paris on Wednesday, May 15, Trudeau called it an "extraordinary honour" to witness the iconic landmark.
"As friends, allies, and partners, we are there for each other in times of need—and that includes rebuilding the Notre Dame Cathedral," Trudeau said. "We are offering Canadian steel and lumber to help preserve this important monument for future generations."
Employing a hardhat, Trudeau also took a tour inside the cathedral.
"A somber moment inside the Notre Dame Cathedral," he said. "The world came together in disbelief as this piece of history burned—and yet here it stands, as iconic and impressive as ever, ready for us to rebuild it."
In support, the Canadian Steel Producers Association (CSPA) tweeted, "It is with pride that we share today's announcement by @JustinTrudeau that the @CSPA producers have offered to donate Canadian #steel as part of the rebuilding of #NotreDame de Paris. Shout out to our friends @FPAC_APFC for also supporting this important effort."
Forest Products Association of Canada (FPAC) also chimed in tweeting, "As a leader in clean technology and sustainable forest management, we are here to support our French cousins in the rebuilding of #NotreDame Cathedral."