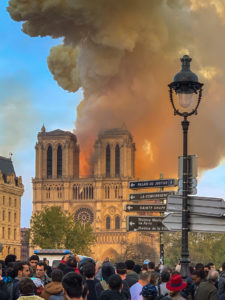 A massive fire has destroyed much of Paris' iconic Notre Dame Cathedral, considered one of the world's greatest architectural treasures. The fire broke out Monday, April 15, evening on the cathedral's roof and quickly consumed the more than 850-year-old building.
The fire ripped through the cathedral's timbered roof supports, where workmen had been carrying out extensive renovations to collapsed balustrades and crumbling gargoyles, as well as the spire's wooden frame. This was the first phase of a major restoration project due to last several years, costing tens of millions of euros.
The cathedral had been known to be in a bad state. An urgent appeal for funds was launched last year after cracks appeared in the stone. The damage extended beyond decorative elements such as statues, and there were fears for the stability of the whole structure.
Le Bras Freres (Le Bras Brothers), a company based in Jarny, in northeastern France had won the contract to restore the Notre Dame spire that was designed by the architect Eugene Viollet-le-Duc and erected in 1859. Some of its 200 specialist employees were working on the wooden and lead spire of the cathedral that collapsed after the fire broke out.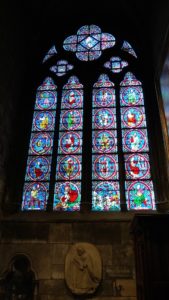 They were due to be on site for up to four years along with Europe Scaffolding, another company which had just put 250 tons of scaffolding around Notre Dame, along with a lift that could move up and down the 91-m (300-ft) spire.
It is believed the fire may have begun high up in the cathedral, below the roof.
A criminal inquiry by prosecutors in the French capital into 'accidental destruction by fire' has begun.
Workers involved in the restoration were interviewed by investigators overnight. They are all said to have finished work for the day and left the site before the fire started.
The cause of the fire remains under investigation. Authorities say the cathedral's structure, including its landmark rectangular towers, has been saved. But its 91-m spire collapsed.
Suggestions that the fire may have been caused by welding work were reportedly dismissed by the architect responsible for the restoration of the spire, who said such work had not yet begun.
The church is home to relics, stained glass, and other incalculable works of art. Among the most celebrated artworks inside are its three stained-glass rose windows, placed high up on the west, north, and south faces of the cathedral. It also includes a Catholic relic, the crown of thorns. Factors that made the it a global tourist attraction is its age, size, and French Gothic design featuring masonry walls and three trunk-sized wooden beams.
The fire tore through the ancient wooden structure of the roof, causing massive destruction. It is thought it might be difficult to find material evidence that could help determine the cause.