Trial to trend: the growth of prefabricated exterior walls
November 26, 2021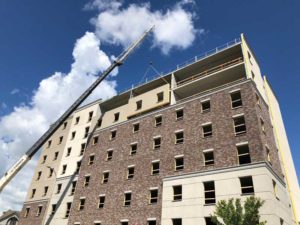 By Tim Salerno
A global pandemic rocking the foundation of a world economy. A widespread labour shortage causing employers of every kind to scramble for qualified workers. Extreme weather, from hurricanes and flooding to wildfires and intense heat.
Various regions of North America have witnessed each of these scenarios in the past two years and, in each case, there was a negative impact to the construction industry. In some cases, activity came to a complete halt. This affected everyone in the stakeholder chain—the architect, the specifier, the contractor, product manufacturers, installation crews, and facility owners. Each of these scenarios created chaos with delivery timelines and increased project costs.
When prefabrication enters the construction equation, the variables change dramatically. Crews can manufacture fully fabricated exterior wall panels (including the façade) in a climate-controlled facility with no weather limitations. The wall panels can then be transported to a job site where they are hoisted into place and attached to the structure without the need for exterior access. In fact, prefabrication can provide up to 50 per cent reduction in building envelope installation time with a substantial reduction in on-site installation team size and minimize the impact of weather.1,2
In the wake of COVID-19, many construction professionals experienced the value proposition of working in a safe, controlled environment removing the uncertainties of working in the field. Add in a post-pandemic labour shortage, and prefabrication becomes an even more popular solution, because it requires a smaller crew to complete a job.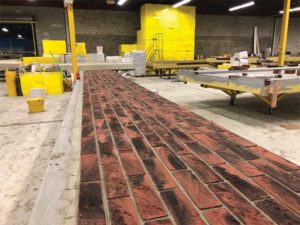 The evolution of prefabrication stretches back more than 40 years. As the construction industry has matured, prefabrication has gained momentum as more building owners and contractors realize the benefits. At the same time, fuller adoption of the approach requires a different mindset from all involved parties including owners, architects, general contractors, wall consultants, fabricators, and other trades.
In essence, the market has been primed for prefabricated exterior walls for some time. As they gain traction, the benefits of prefabrication become even more apparent. Its potential has yet to be fully realized.
Delivering greater certainty
With site-built exterior walls, certainty is fleeting due to the many unknowns at play. Prefabrication changes the conversation. It produces better scheduling options, increased safety for work crews, and fewer workers on site. This, in turn, delivers the potential for cost savings and faster turnaround times.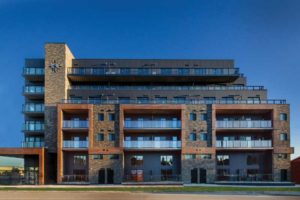 Consider the construction of a new hospital. The doctors, nurses, other professionals are ready to start working, and medical supplies are in stock. Patients have scheduled appointments with their providers. Delays in the ultimate completion of the hospital can push back medical treatment for patients who need it. A delayed completion scenario also represents a financial loss for the hospital, which relies on revenue from patient procedures to meet payroll and maintain operations, not to mention potential liquidated damages to the contractor if they are part of the contract. Prefabricated exterior walls as a construction system can create a more predictable completion timeline and add to the probability of the hospital opening on time.
In a controlled manufacturing environment, fabrication crews achieve the benefit of full-time jobs making a product for their own installation teams. They are invested in developing their skills and committed to the mission of repeat business by ensuring they generate quality results. This contributes to the creation of a higher quality product.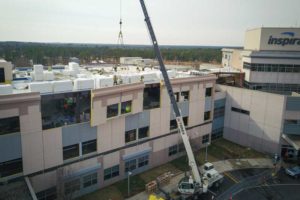 Although prefabrication requires more upfront money for engineering and manufacturing, greater schedule certainty can produce savings in the long run, for example on projects that have a hard completion date. While weather is often a factor in field-built construction, wall panels prefabricated in a climate-controlled facility are not subject to weather-related work stoppages and can be delivered to the site on time, minimizing the risk of delay. Fast install time means the building enclosure is no longer on the project critical path. Moreover, since fewer people are needed to complete a panel assembly and solve constructability challenges, prefabrication can lower the cost of the overall project.
Fully finished exterior wall assemblies are prefabricated at waist height, significantly reducing the risk of injuries. Crews do not perform their jobs at great heights on a high-rise commercial building as they would if they were installing product on site, so there is no need for scaffolding. Since complete wall panels are delivered to the jobsite, management of most packaging and other building material waste takes place offsite. As such, the potential for environmental contamination is greatly reduced.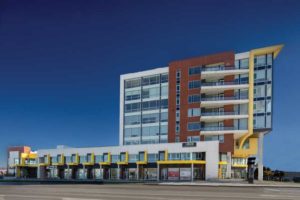 [5]With significant safety improvements, few or no weather delays and rapid exterior wall installation, speed to market improves. Buildings can be dried in days or weeks rather than months. On average, a 5574-m2 (60,000-sf) exterior can be dried-in within a month. For example, the Adelaar luxury condominium located in Vineland, Ontario, experienced an accelerated construction schedule because of the use of prefabricated exterior wall panels. The off-site manufacturing process, which occurred over four months, allowed for the building envelope to be assembled in tandem with site preparation. Upon completion, the panels arrived on-site ready for installation, enclosing the building envelope in only four months. Originally projected to take nine months to enclose and assemble, the building envelope was completed in eight months allowing the Adelaar to not only gain efficiencies in its building process but also accelerate occupancy.
State of the industry
At this time, the industry has yet to universally adopt a best practice enabling prefabricated exterior walls to be considered from the beginning of a construction project. With traditional design-bid-build construction, owners select architects who complete designs and select a general contractor. The contractor then uses drawings to put the job out to bid, contracts are awarded to multiple trades, and then construction eventually begins.
Currently, experienced exterior wall fabricators who receive drawings from architects may recommend prefabrication as a solution for project-specific constructability challenges. If the benefits of prefabrication are sufficiently compelling, architects typically employ design-assist services provided by prefabrication specialists to adjust drawings to fit the prefabrication method.
To fully realize the benefits of prefabricated exterior walls, design teams need to consider prefabrication early in project design. Consulting prefabrication experts at the beginning allows projects to be designed once using the most effective construction methods. Design options available with prefabrication and new ways of scheduling and installing exterior walls can be realized without identifying and justifying a need for project redesign.
A more collaborative approach is developing as owners, contractors, and architects discover and gain experience with the substantial benefits of prefabrication. Harnessing the inspiration of architects and addressing constructability challenges can lead to flexible, innovative construction solutions, and prefabricated exterior wall manufacturers are primed to deliver on that front.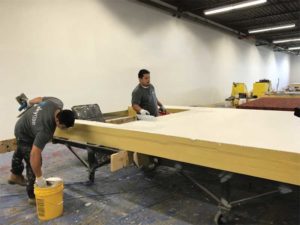 Design freedom
A common misconception is architects and designers must limit themselves when it comes to their vision for a building if they choose prefabrication of the building envelope as the preferred construction method. They fear they will not have the same design flexibility to give a building their signature, a vision typically shared with the owner.
Prefabricated wall manufacturers address this concern by providing a wide array of colour, texture, and cladding material options. There are few restrictions on the exterior material or the esthetic properties. In addition to esthetic freedom, prefabrication can deliver lightweight, energy-efficient panels that reduce structural and foundational requirements, increasing the performance of the exterior wall while maintaining the compelling design elements creating a modern building.
Standardization: The next frontier
Prefabrication as an industry began as a regional option where small operators with limited resources developed their own methodology to deliver product. Until now, this lack of standardization has hindered widespread adoption of panelization in many sectors.
Certain manufacturers have stepped up to address this challenge. They have developed processes that can be replicated nationwide. Fully engineered, code-compliant systems help deliver a consistent, high-performance wall assembly. With such an approach, end products can be of the same quality and offer the same reliability no matter where a project is located.
Economies of scale will continue to evolve, further improving the competitive position of prefabrication. A paradigm shift is underway in the construction industry; fast, on-schedule construction of high-quality buildings is an emerging expectation and prefabrication will help deliver.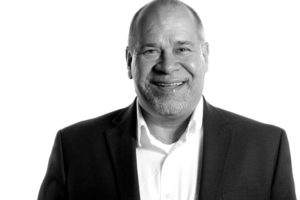 [7]Tim Salerno has been in the construction industry for over 30 years, all of which have been with Sto Corp. He has held several positions during his employment with Sto including more than 10 years in the company's strategic accounts department where he was responsible for overseeing several key corporate accounts. Salerno is currently the director, StoPanel and is responsible for various activities within the StoPanel Technology program, including acting in a business development role to grow the industrialized construction portion of the company's overall business.
Endnotes:
[Image]: https://www.constructioncanada.net/wp-content/uploads/2021/11/Church-Street_001_13.jpg
[Image]: https://www.constructioncanada.net/wp-content/uploads/2021/11/Newcastle-001_03.jpg
[Image]: https://www.constructioncanada.net/wp-content/uploads/2021/11/BLine-001_17.jpg
[Image]: https://www.constructioncanada.net/wp-content/uploads/2021/11/Inspira001_03.jpg
[Image]: https://www.constructioncanada.net/wp-content/uploads/2021/11/University-Heights-001_14.jpg
[Image]: https://www.constructioncanada.net/wp-content/uploads/2021/11/University-Heights001_04.jpg
[Image]: https://www.constructioncanada.net/wp-content/uploads/2021/11/Salerno_Headshot.jpg
Source URL: https://www.constructioncanada.net/trial-to-trend-the-growth-of-prefabricated-exterior-walls/
---