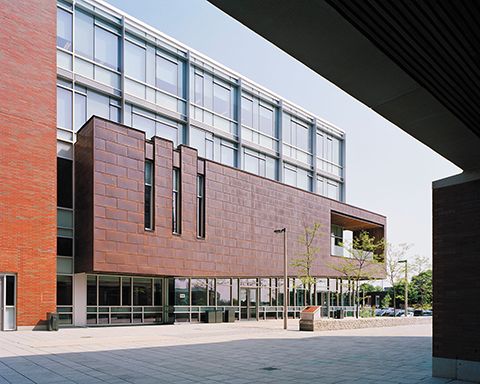 Installation
Flat and standing seam cladding systems are two of the most popular types of installation, both of which were used to clad the UOIT and the Beaty Lundin Visitor Centre, and can be grouped into the 'traditional' category, as opposed to the 'engineered' category.
Traditional systems typically make use of relatively thin sheet copper panels attached to a solid, smooth, nailable substrate. On the other hand, engineered systems vary in appearance and capability from smooth, flat systems of thick copper to composite copper clad material. They also include deeply brake-formed and textured systems to perforated copper panels allowing diffused light to reach inhabited areas. Two of the most popular engineered systems are curtain wall and copper screen panels. Flat, circular, and uniquely shaped walls can easily be covered with copper because of the different cladding assemblies available.
Flat siding
This type of siding is usually fabricated from 680-g (24-oz) copper. Its profile is designed to provide very tight joints between panels, and results in an extremely flat wall appearance with minimal shadows. Panel depth is approximately 6 mm (1/4 in.). This system is self-flashed at horizontal seams using a double-fold detail.
The panels are installed from the top down. The bottoms of the panels are fastened to the substrate with screws through slotted holes in the siding. The screws are not fully tightened to allow the siding to expand and contract.
Transverse seams are lap joints with a minimum of 152-mm (6-in.) lap. The seams should be staggered on successive runs to prevent buildup of copper material. Lock strips and flashing are of the same weight as the siding.
Profiled panels
Profiled copper panels can have a variety of shapes and sizes. They can be formed onsite with a brake or powered forming equipment, or they can be pre-manufactured and specified with embossed patterns or other designs.
The minimum recommended weight for copper used on profiled panels is 453 g (16 oz), but some panel profiles may require heavier material. Support blocking behind the panels may be required depending on panel thickness and dimension, along with the wall configuration (i.e. straight or curved). A continuous nailable substrate is used with profiled panels. Cleats screwed or nailed to the substrate are used as a fastening method.
Curtain wall
This type of siding is typically fabricated with 3-mm (1/8-in.) thick muntz metal spandrel panels at each floor slab. The result is a uniform colour among the exterior materials. These details demonstrate the approach used to construct a copper alloy curtain wall in a historically significant building. Modern construction methods and materials would certainly improve the moisture and thermal control of the exterior skin. This system supports itself from floor slab to floor slab—meaning no substrate is required. However, steel brackets are used at every slab as a fastening method.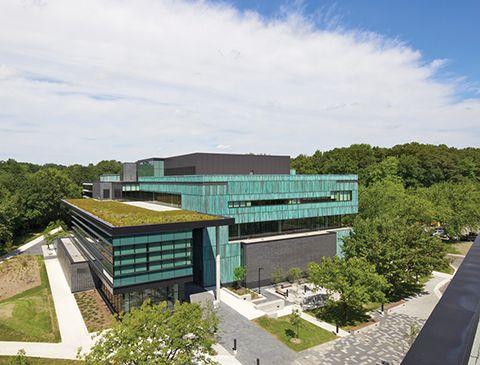 Screen panels
Copper screen panels are part of a manufacturer's engineered system. The details illustrate the main concepts in the design of copper screen panels. The system uses metal support brackets and channel tracks to carry the copper panels. The support brackets can be attached to virtually any kind of building structure.
The copper screen panels act as a lightweight finish screen. The system is designed to be a water-shedding rainscreen. Alternatively, the panels can be perforated or have shaped openings acting as sun or decorative screens. The backup wall system should always be designed to be watertight.
Isolator clips are used between the metal support system and the copper panels to separate dissimilar metals. The minimum gauge of the copper panels is dependent on the size of the panels and the design of the specific system used. The manufacturer's recommendations should be followed. Any substrate or structure is specified by the system manufacturer. The fastening method typically specifies screws or bolts, but is ultimately determined by the system manufacturer.
Conclusion
'Going green' is not just a trend. With an increased demand on natural resources, numerous design/construction professionals and building owners are realizing the importance of sustainable principles. Copper and its many alloys offer esthetically stunning qualities along with unique physical and mechanical properties. This ensures designers and building owners not only achieve their visual aspirations and performance specifications, but also meet their environmental and cost-performance goals. While no one can exactly predict what the building and construction market will do in the future, it is evident copper will remain an important building material for years to come.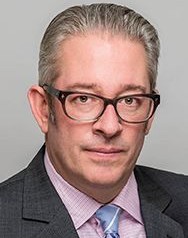 Stephen Knapp is the program manager of the Sheet, Strip, and Plate Council for the Copper Development Association (CDA), and the executive director of the Canadian Copper & Brass Development Association (CCBDA), the national trade association in Canada for the copper industry. He is also involved with guiding the market development and promotional efforts for a wide variety of copper and copper alloys applications—tube and plumbing, electrical, renewable energy systems, energy-efficiency technologies. Knapp can be reached via e-mail at stephen.knapp@copperalliance.ca.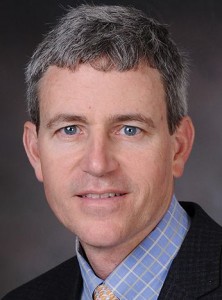 Larry Peters is project manager for CDA. His responsibilities include providing training and technical assistance to architects, interior designers, contractors, engineers, and others interested in copper and copper alloy material for building construction. A 1987 graduate of West Point, Peters has spent almost two decades working exclusively with architectural metals. He travels extensively for the CDA—educating the industry on benefits and proper uses of copper in construction. Peters can be reached at larry.peters@copperalliance.us.

Control the content you see on ConstructionCanada.net!
Learn More.