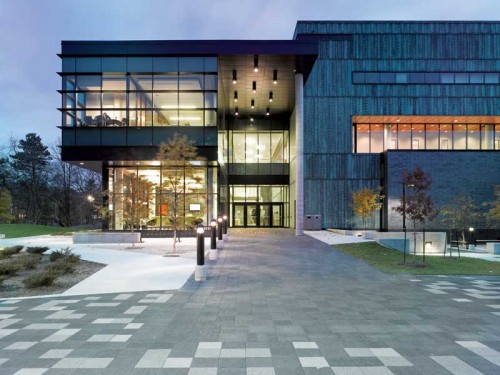 By Stephen Knapp and Larry Peters
Structures across Canada are turning green in more ways than one. The Beaty Lundin Visitor Centre (Britannia Beach, B.C.), the University of Toronto at Mississauga Campus Instructional Centre, and Oshawa's University of Ontario Institute of Technology (UOIT) are examples of buildings clad in copper—a material that naturally turns green, and is 100 per cent recyclable as it can be used over and over without losing its engineering properties.
Trends have shown 'green' building is percolating in the minds of architects and contractors across Canada. There has been an increase in the number of Leadership in Energy & Environmental Design (LEED)-certified buildings in the country and a surge in copper cladding submissions for the North American Copper in Architecture (NACIA) awards program.
Sustainability is not copper's only asset. The metal is also durable, flexible, malleable, lightweight, fire-resistant, corrosion-resistant, and available in an array of finishes and colours. These attributes have given building professionals the opportunity to expand their creativity and go beyond the limits of traditional wall cladding materials.
Patina possibilities
Typically, when left unprotected, copper and its principal architectural alloys naturally oxidize. This causes the metal to change in hue from the natural salmon pink colour through a series of russet brown shades to light and dark chocolate browns. From there, it will develop a dark, dull slate grey or dull black from which the blue-green or grey-green patinas emerge.
The Beaty Lundin Visitor Centre, a 2011 NACIA award winner, has developed a very site-specific blue-green patina due to the microclimate around its Pacific West Coast location and the choice of prepatinated copper cladding. The high humidity has caused the panels to vary in colour daily and create a lively and active response to the oceanside settings. In industrial and seacoast atmospheres, the natural patina generally forms in as little as seven to 10 years.
The protective chemical reaction occurs when a corrosive attack of airborne sulphur compounds leads to a gradual change in the surface colour until equilibrium is reached and the change is stabilized. When the quantity of airborne sulphur dioxide is relatively low, patina formation may not reach a dominate state for 10 to 15 years. In arid environments, the basic sulphate patina may never form due to the lack of sufficient moisture to carry the chemical conversion process to completion. To achieve the mature blue-green hue at the initial phase of a project's life, architects can opt for prepatinated copper.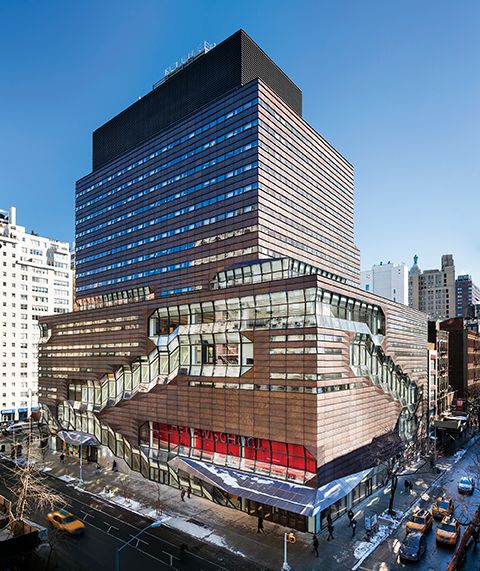 The University of Toronto Mississauga Instruction Centre, a 2012 NACIA award-winner, displays a prepatinated finish that is highly responsive to conditions of light and humidity. As a result, the building presents subtle variations in colour and texture from day to day and hour to hour. The same copper was also installed in the interior of the facility. To secure the desired colour, a clear, matt, acrylic sealer was applied, preventing direct human contact with the patina.
Alloys available
Achieving desired esthetics does not require sealers or paints. A wide variety of copper alloys are available for architectural use, including commercial bronze, red brass, cartridge brass, muntz metal, architectural bronze, silicon bronze, and nickel sliver. Technically, alloys composed primarily of copper and tin are considered bronzes, and those composed chiefly of copper and zinc are brasses. Copper, brass, and bronze are ideally suited for wall cladding applications. These materials are strong, lightweight, malleable, highly corrosion-resistant, and available in numerous factory-applied alloys to achieve unique finishes and colours.
When considering copper system, designers should reference ASTM B370, Standard Specification for Copper Sheet and Strip for Building Construction, which defines composition, dimensional tolerances, and mechanical properties of acceptable building material. The most popular temper designations for sheet copper used in wall cladding systems are 'H00' or 'H01' (i.e.'Cold Rolled' or '1/8 to 1/4 Hard') as well as 'H02' (i.e. '1/2 Hard'). With its many attributes, this family of metals can be the solution to many innovative building designs—especially those seeking to accentuate the natural environment.
The aforementioned Beaty Lundin Centre is clad in a combination of dark-stained horizontal wood cladding and prepatinated copper panels (75 per cent recycled content). The design team deliberately chose materials and forms that respond to the many elements onsite.
Wood is carried through the building and overall site in different guises. The rectilinear prepatinated copper panels of the visitor centre speak to the modernity of the historic Concentrator Building—a wonder of technology when originally built. The footprint of the new visitor centre was expanded to embrace the neighbouring buildings and structures, creating intimate interstitial spaces to juxtapose old and new.
The UOIT building, another 2012 award-winner, also had a sustainability goal—to create a campus that limited energy and resource consumption while providing a supportive and inspiring environment for students. It took great effort to create an organization of compact and efficient buildings integrated into a coherent vision of the campus.
The building encloses the primary space of the campus, including a formal landscaped quadrangle and an informal park space. These elements are interconnected with the landscaped routes and covered colonnades between the buildings. The organization of the buildings on campus was devised to preserve site area and promote an urban setting for students, while also establishing a sustainable connection to the Oshawa Creek Ravine. In accordance with 'going green,' the university meets the LEED Gold requirements of environmental design, and the lifespan of copper ensures a long service life consistent and supportive of this goal.
To achieve the desired look, both flat seam and standing seam detailing was utilized within the rainscreen cladding and soffit systems. The cladding is typically mounted off of concrete masonry units (CMUs), with an assembly of galvanized adjustable Z-grits and perforated acoustic deck to accommodate ventilation within the wall assembly.

Control the content you see on ConstructionCanada.net!
Learn More.